Is your child is having academic, social, or behavioral problems?
Consider a Comprehensive Evaluation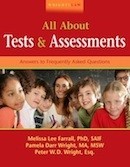 A comprehensive evaluation will identify your child's strengths, deficits, and needs.
An evaluation will help you develop:
a plan to help your child
a road map for the future
A privately obtained evaluation should answer your questions and include specific recommendations about what your child needs.
Choose an evaluator  independent evaluator in the private sector who has expertise in your child's disability, is independent of the school district, and who is willing to work with the school staff.
The evaluator may identify professionals who can help your child.
Or, your child's school may ask for consent to evaluate your child to determine if they are eligible for special education services and accommodations.
Who Can Conduct an Evaluation? [Read more →]

Tags: Comprehensive Evaluation · Comprehensive Psycho-Educational Evaluation · Neuro-psych Testing · Skills Measured by Tests · Test Charts · Test Results · Test ScoresNo Comments.