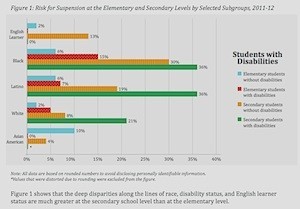 A new report published in February 2015 by the Civil Rights Project UCLA documents "gross disparities in the use of out-of-school suspension experienced by students with disabilities" and other subgroups.
These disparities mean concern about the "potentially unlawful denial of educational opportunity" and the impact on kids nationwide.
This impact includes:
loss of classroom instruction time
damage to student performance
higher risk of dropping out and delinquency
economic costs

Tags: Civil Rights Project UCLA · Closing the Discipline Gap · Disability Scoop · Dropouts · SuspensionsNo Comments.