Welcome to Wrightslaw
In April 2020, we will celebrate our 22nd year of providing accurate, reliable information about special education law and advocacy.

Wrightslaw began on November 9, 1993, when The Supreme Court issued a unanimous decision on Shannon Carter's behalf in Florence County v. Shannon Carter. To learn more, read Three Generations at the Supreme Court and The Untold Story.
Pete Wright is an attorney who represents children with special educational needs. Pete struggled with learning disabilities, including dyslexia, dysgraphia and ADHD. His determination to help children grew out of his own educational experiences.

Pam Wright is a psychotherapist who has worked with children and families since the 1970's. Her training and experience in clinical psychology and clinical social work give her a unique perspective on parent-child-school dynamics, problems, and solutions. Pam has written extensively about raising, educating, and advocating for children with disabilities.
Pete and Pam Wright live on Stingray Point, Deltaville, Virginia. Read more about Pete & Pam - Up Close and Personal.
Wrightslaw is an important part of our identity so we include "Wrightslaw" in the titles of our books. Pete and Pam are co-authors of:
Pete and Pam Wright also helped to produce the award-winning DVD, Surviving Due Process: Stephen Jeffers v. School Board in 2004.
In 2007, Wrightslaw began to produce Multi-media Training Programs on a variety of about special education law and advocacy topics.
Each year, Pete and Pam present Wrightslaw Special Education Law and Advocacy Training Programs in states across the country. The Wrightslaw Speakers Bureau includes nationally-recognized experts in the field of special education law and advocacy.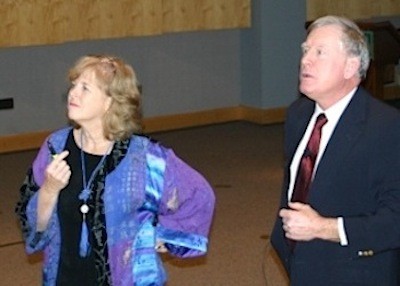 For a year and a half, Pete and Pam Wright were Adjunct Professors of Law at the William and Mary School of Law where they taught a course about special education law and advocacy and assisted with creation of the Law School's Special Education Law Clinic. Pete and Pam are co-founders and faculty at the William & Mary Law Institute of Special Education Advocacy (ISEA).
Join our online community on the Wrightslaw Way Blog, Facebook and Twitter. Visit the Wrightslaw Channel on Youtube. Don't forget to sign-up for weekly issues of the Special Ed Advocate.
Please visit our other websites: Yellow Pages for Kids with Disabilities, Fetaweb, and Wrightslaw: No Child Left Behind.


Rev: 06/27/19