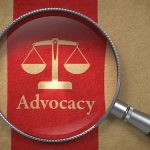 Meet Meagan Norris! A special education teacher and a passionate advocate for her students.
Her student's IEP required the school to provide his P.E. with regular education students. Ms. Norris observed the child's P.E. teachers using a tape barrier to segregate this child from his classmates. After she advocated for a student with Down syndrome the school board retaliated against her.
"This cannot happen. It's segregation, it's hurtful…At the end of the day, forget the legal side of it, it's just mean". Read the entire story!