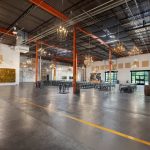 This Wrightslaw Special Education Law and Advocacy Conference, a Wrightslaw training program featuring Pete Wright, Esq., is being sponsored by the National Down Syndrome Congress (NDSC).
The program will be held at the Monday Night Brewing Garage on 933 Lee Street SW in Atlanta, GA on Thursday, October 27, 2022.
Conference fee includes boxed lunch, snack, bottled water, a Wrightslaw highlighter pen, three Wrightslaw books – Wrightslaw: Special Education Law, 2nd Ed., Wrightslaw: From Emotions to Advocacy, 2nd Ed., and Wrightslaw: All About IEPs provided the morning of the conference. Wrightslaw will email those three books to each attendee in the adobe.pdf format as well. The three print and pdf books retail for $103.70. The DSA of Atlanta will host a post-workshop happy hour onsite.
For all conference details, please click here!
See you in Atlanta!