School has started. Your first IEP meeting is approaching.  Both parents and teachers are anxious about what this year will bring.  What will happen at the first IEP meeting? What can you do to ensure a productive meeting?
Here are some Tested Tips for IEP Meetings from CADRE that parents and teachers can use.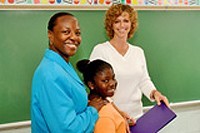 CADRE suggests school staff ("Conveners" of IEP meetings) do this to prepare for the meeting.
For Educators – Prepare for the IEP Meeting
Explain crucial nature of parent's involvement and what will happen at the meeting.
Invite parents to bring anyone they wish.
Explain who will be there from the school and why. Ask the parent(s) if anyone has been left out.
Schedule convenient time and location, and ample time for meeting – very disruptive to have people coming and going.
Establish if parent(s) need help with transportation or childcare.
Invite parents to review relevant documents prior to meeting, encourage classroom visits.
Keep parents advised of progress on an ongoing basis – an IEP meeting is a bad place to spring a surprise.
During the IEP Meeting
Make parents feel welcome.

Greet at door
Cup of coffee?
Same size chairs for everyone
Brief pre-meeting chit-chat and acclimatization

Everyone introduce themselves and explain why they are there.

Everyone be addressed with the same degree of formality

Speak in clear, plain language – avoid jargon and discipline-specific terminology
Have specific materials available that are referred to.
Focus on the child's individualized needs – not your program, classroom, or resource limitations.
Listen carefully.
Maintain confidentiality – don't discuss other students.
Don't hurry.
Be honest and trust that the parent is also.
Be willing to say "I don't know".
Involve student for at least a portion of the meeting if they can contribute and always if 18 or over.
After the Meeting
Review and evaluate.

What worked?
What didn't?
Incorporate into future meetings
Consider building meeting tip file for each child – sources of anger, joy etc.

Send home thank you note.
Write down specific suggestions about things parents can do at home to help.
For Parents – Prepare for the IEP Meeting
CADRE provides these suggestions to help parents plan and prepare for the meeting.
Prepare notes about what you want to learn/find out at the meeting.
Prepare notes about what you want your child to learn in school.
Bring a picture of your child if they won't be attending.
"If this were your child…?" use this questioning strategy.
Ask for additional time to consider important decisions if you're uncomfortable making them on the spot at the meeting or want to get additional input.
Look for opportunities to express gratitude to teachers and related staff.
Bring someone along as a source of support.
If compromising, define how and when to evaluate if compromise is working.
Try to remain calm.
Saying "I don't know what you mean" is a demonstration of confidence and competence.
CADRE – The Center for Appropriate Dispute Resolution in Special Education – is funded by the Office of Special Education Programs at the US Department of Education to serve as the National Center on Dispute Resolution in Special Education.
CADRE works to increase the nation's capacity to effectively resolve special education disputes, reducing the use of expensive adversarial processes. The Center encourages the use of mediation and other collaborative strategies to resolve disagreements about special education and early intervention programs.
You may download these Tested Tips for IEP Meetings from the CADRE website.