The IDEA State Complaint Resource Center is your guide to effective state complaints, one of the dispute resolution options under the Individuals with Disabilities Education Act (IDEA).
IDEA State Complaint Resource Center is hosted by the Advocacy Institute.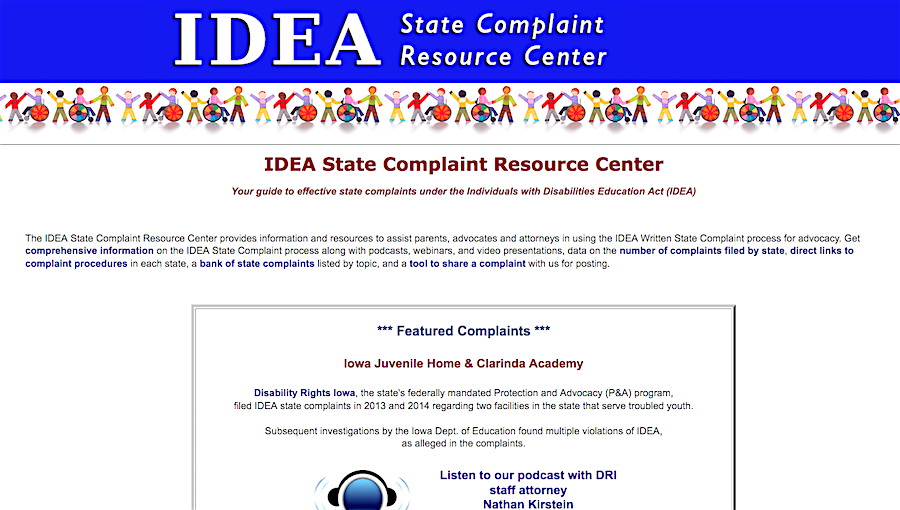 The IDEA State Complaint Resource Center is designed to provide parents, advocates and attorneys with information and resources to assist in using the State Complaint process effectively.
We believe the IDEA State Complaint process is underutilized as a tool for improving the compliance and quality of special education programs. The number of written state complaints filed has declined by 15 percent between 2005-2006 and 2010-2011 according to data compiled by CADRE. Yet State Complaints are the only avenue for addressing systemic issues of noncompliance.
When issuing the IDEA Federal regulations in 2006, the U.S. Dept. of Education noted the usefulness of state complaints.
"Through its Part B State complaint procedures, each State has a powerful tool to address noncompliance with Part B of the IDEA and its implementing regulations in a manner that both supports and protects the interests of children and their parents and facilitates ongoing compliance by the State and its public agencies with the IDEA and implementing regulations" (Source: 71 FR 46601 August 14, 2006).
State by State Information on Filing Complaints
At this State Complaint Resource Center you can Share a Complaint
Or, Spread the Word about this Resource Center with others.
More Resources
Procedural Safeguards and Parent Notice
Want Systemic Change? Use the State Complaints Provisions Under IDEA