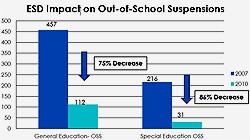 The JustChildren program at the non-profit Legal Aid Justice Center in Charlottesville, VA has released a study that argues more school districts should adopt the [VA] state-approved, individualized discipline philosophy called Effective Schoolwide Discipline.
Angela Ciolfi, legal director of JustChildren, says their research revealed that across the state, students with special needs and African-American students are disproportionately impacted by what JustChildren calls "harsh discipline" practices.
Harsh Discipline Hinders Schools
The Report documents that these harsh discipline policies do not improve student behavior or make schools safer.
"Last year, Virginia students with disabilities received short-term suspensions at a rate 2.4 times as high as non-disabled students, and black students were four times as likely to be suspended or expelled as white students," says Ciolfi.
JustChildren also says many school districts are not providing education for students while they're being suspended.
Since Effective Schoolwide Discipline was developed in 2007, districts that have used it have seen dramatic decreases in out-of-school suspensions. Despite the impressive results of Effective Schoolwide Discipline, it's in only 12 percent of Virginia's over 1800 schools.
Listen to the NPR interview with Angela as she discusses the research and the impact of harsh discipline policies on minority students  and students with special needs.  http://wamu.org/news/11/11/17/study_virginia_school_discipline_too_harsh
Read the full Report  – Educate Every Child at http://www.justice4all.org/node/134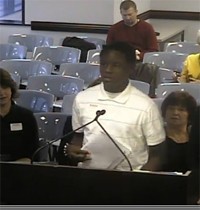 Expelled with NO Services – Testimony of a shy 15 year old
A shy 15 year old boy with a learning disability testified before the VA state Board about his experience being expelled for 440 days without educational services at the age of 13.  People were really alarmed and touched by his testimony, and the Executive Secretary came out of the meeting so that she could speak with him personally.

You can watch and hear the student testify at:  http://www.doe.virginia.gov/boe/meetings/recorded_video.shtml
Go directly to his testimony at 1 hour, 17 minutes, 30 seconds into the recording.
More on Behavior and Discipline
How to Address Behavior Management and Appropriate School Response by Angela Ciolfi & William Reichhardt