Get OSEP UPDATES – a monthly newsletter with the latest information from the Office of Special Education Programs.
Stay informed with the latest news coming out of the Office of Special Education and Rehabilitative Services and the Department of Education.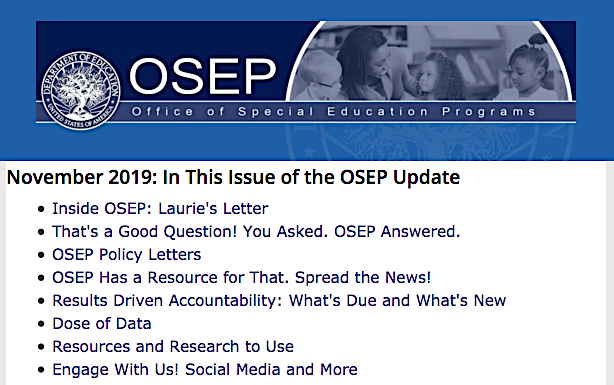 November 2019: In This Issue of the OSEP Update…
Inside OSEP: Laurie's Letter
That's a Good Question! You Asked. OSEP Answered.
OSEP Policy Letters
OSEP Has a Resource for That. Spread the News!
Results Driven Accountability: What's Due and What's New
Dose of Data
Resources and Research to Use
Engage With Us! Social Media and More
NEW Section This Month! Question and Answer Section
That's a Good Question! You Asked. OSEP Answered.
In this new section, OSEP will answer frequently asked questions on IDEA. We will highlight a different high-interest topic each month. Questions and answers are taken from previously issued policy letters and frequently asked questions documents.
Evaluation Timelines – School Breaks
Question: How are evaluation timelines calculated when they include school breaks?
Question: May a State educational agency adopt a regulation that takes into account, for purpose of the resolution period timeline, a school district's winter break?
Subscribe to the OSEP Update and breaking news at this link:
https://public.govdelivery.com/accounts/USED/subscriber/new?topic_id=USED_137