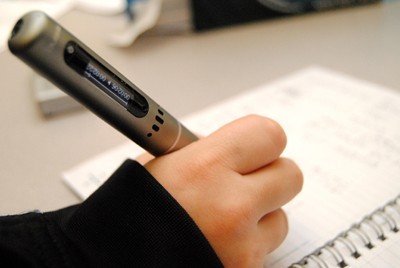 We often get questions about the legality of using a recording device or pen in class.
Parents ask this question when schools tell them "recording devices violate the confidentiality" of other students in the classroom.
Digital recorders or recording pens are Assistive Technology devices. If your child is eligible for special education services under IDEA, the school is required to consider the assistive technology needs of your child. The law requires schools to use assistive technology devices and services "to maximize accessibility for children with disabilities." (20 U.S.C. Section 1400(c)(5)(H), Wrightslaw: Special Education Law, 2nd Edition, p. 47)
These devices can "transform the life of almost any child with learning disabilities who struggles with notetaking."
What about using a recording device for class lectures in a postsecondary setting? Is it Legal for a Student to Record Class Lectures?
Ask Penn State.
The Office of Disability Services (ODS) at Penn State recognized how AT could benefit students with disabilities by improving their classroom and studying experiences.
While the use of the smartpen is advantageous to anyone who uses pen and paper, the benefits it has for disabled students are vast. – Terrell Jones, vice provost for Educational Equity at Penn State.
Last fall ODS began a program to loan recording pens to students. They "introduced a pilot program to loan 'smartpens' which use unique paper to record audio and digitize the notes written and the audio heard. The resulting digital content can be uploaded to a student's computer."
"In addition, the department is realizing cost savings for the University by offering this technology in lieu of contracted note-taking services made available to those students. Students have said that their classroom experience has been enhanced with the use of the smartpen.
Sixth semester student Anthony Demchak enjoys the versatility and customization the tool adds to his day-to-day academic schedule. With the smartpen, I can focus on what the professor is actually saying instead of focusing on getting down all the notes, he said.
We're sure to see many more benefits in the future from this and other technology-assisted study aids, including the ability to help disadvantaged students have a greater chance of academic success."
'Smartpen' Pilot Program Helps Students with Disabilities published October 26, 2012 in the gantdaily.com
More Examples Nationwide
Rutgers – Helping You Succeed: The Office of Disability Services offers students the opportunity to borrow LiveScribe pens, as availability allows. We highly encourage any student approved for note taking services to speak with his/her coordinator about its use.
Southern Oregon University: SOU uses a traditional notetaker program in many instances [Livescribe], and for some students that's a perfect accommodation.
Wagner College – NY: The Office of Disabled Student Services provides the following assistive technology for students with sensory, memory, or learning challenges: Livescribe Pen.
California Polytechnic State University: Livescribe Note-Taking Services.
ASU – Note-Taking Services or use of Smart pens.
UC Berkeley – Note-taking Services.
University of Central Arkansas – Disability Resources Center.
Dickinson College – Note-taking Accommodations.