The school sent us a "draft" Present Level of Performance for math and told us our feedback was welcome.

We wrote our draft and sent it back to the school.

When reviewing the draft at the IEP meeting, the school told us the present levels could only be the school's perspective. The team would not be discussing our draft, or our concerns.

Is this legal?
It would be interesting to see the rule, regulation, statute, or local policy that restricts the Present Levels to input from the school only – or "only the school's perspective."
Politely tell the school you're confused about this, and ask (in writing) for a written copy of the policy to clarify.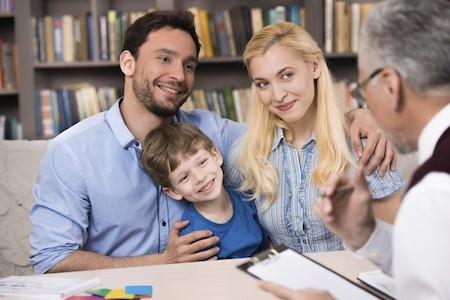 There is nothing in the federal statute or regulations that says the law does not allow parent input. But don't depend on this post – learn for yourself what the law says.
Check your Wrightslaw: Special Education Law book, p. 99 & 245.
20 U.S.C. 1414(d) and 34 CFR 300.320.
The IEP (that includes the written statement of Present Levels) is developed, reviewed, revised… in a meeting in accordance with sections 34 CFR 300.320 through 300.324.
These sections speak to the make-up of the IEP Team, that includes (listed first), the parent of the child, and parent participation in the IEP.
Some states actually have a place in the Present Levels section for parent input.
For example, see the PA annotated IEP form (2018) page 13, 14 for the Present Levels section that asks for "Parental concerns for enhancing the education of the student."
https://www.pattan.net/getattachment/Forms/INDIVIDUALIZED-EDUCATION-PROGRAM-IEP-ANNOTATED/Annotated-IEP/Annotated-IEP-2018-(1).pdf?lang=en-US&ext=.pdf
Read what IDEA says about the development of the IEP. Again, check your Law book page 103.  20 U.S.C 1414(d)(3)
Development of IEP
(A) In General. In developing each child's IEP, the IEP Team, subject to subparagraph (C), shall consider
(i) the strengths of the child;
(ii) the concerns of the parents for enhancing the education of their child; [emphasis added]
Note: You must document all your concerns in writing. If you have questions about what the school told you, be sure to write a letter to the school to document your concerns.
More about Present Levels
Present Levels – the Foundation of the IEP
https://www.wrightslaw.com/howey/iep.present.levels.htm
Present Levels in the IEP – What's So Important
https://www.wrightslaw.com/nltr/17/ss.present.levels.htm
More strategies for adding input to the IEP.
https://www.wrightslaw.com/blog/adding-parent-input-to-the-iep-heres-how/
https://www.wrightslaw.com/howey/written.opinions.htm
https://www.wrightslaw.com/howey/iep.mtg.prepare.htm
https://www.wrightslaw.com/howey/power.mtgs.ltrs.htm
https://www.wrightslaw.com/nltr/09/nl.0331.htm