Students with disabilities are presently suspended at much higher rates than other students in school districts across Texas and nationwide.
In 2014, Jim Comstock-Galagan, Executive Director of the former Southern Disability Law Center completed a Resource Manual that addresses legal strategies under the Individuals with Disabilities Education Act (IDEA) as well effective educational practices for preventing the suspension of students with disabilities.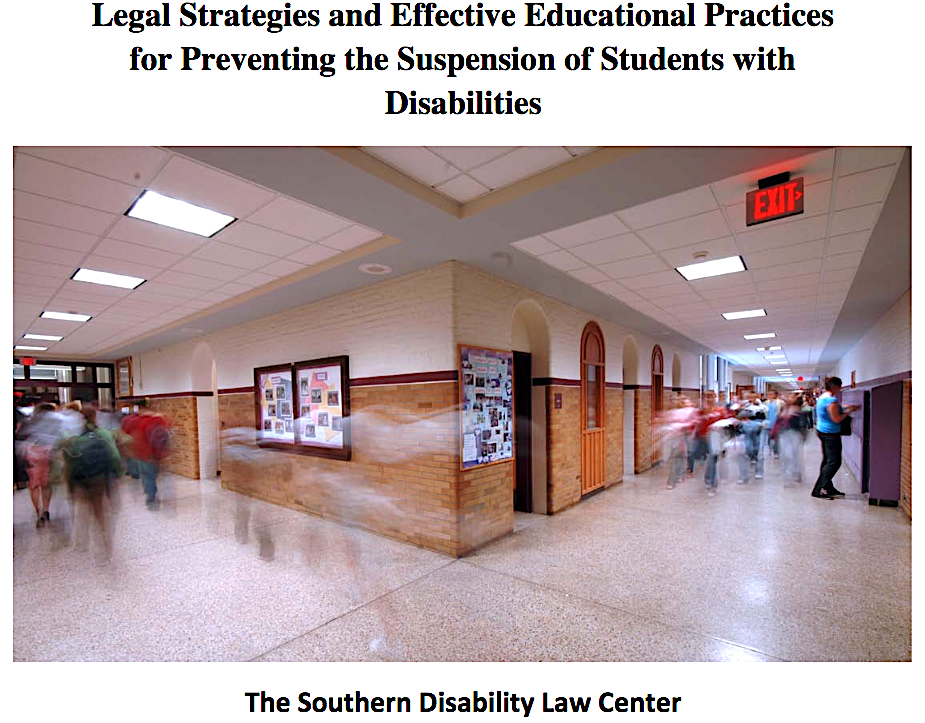 Keeping Students with Disabilities in School: Legal Strategies and Effective Educational Practices for Preventing the Suspension of Students with Disabilities
https://www.wrightslaw.com/info/disc.SDLC.res.manual.galagan.pdf
Although there are a few references to Texas' SPED regulations, the Manual predominately focuses on creative uses of IDEA's provisions to prevent the suspension of students with disabilities…. and also ways to ensure that appropriate FBA are conducted and effective BIPs are developed\implemented with an emphasis on Positive Behavioral Interventions and Supports (PBIS).
The Manual addresses
Related Services – the types of services that can be obtained under IDEA's definitions of social work, counseling, psychological services; the need for measurable and annual related services goals in a student's IEP; the circumstances under which increases in related services should be sought; and strategies for securing increases;
Strategies for obtaining Functional Behavioral Assessments (FBAs) and Behavior Intervention Plans (BIPs) which include Positive Behavioral Interventions and Supports (PBIS). These strategies include using several different IDEA provisions that do not specifically mention FBAs or BIPs but can be used to obtain FBAs\BIPs ( e.g. initial evaluations; reevaluations; peer reviewed research; supplementary aids and services; supports for school personnel)
Strategies for obtaining Supplementary Aids and Services that are geared toward students with behavioral challenges. These services include check‐in, check‐out with a social worker; circles of friends; classroom companion; peer buddy outside of class; peer tutors; behavior aid; FBAs, and BIPs;
IDEA's requirement to review and revise students IEPs when they are not making academic and/or behavioral progress (and strategies for using this provision to increase related services, supplementary aids\services, and\or provide other behavioral supports including a FBA and BIP);
Students right to receive direct educational services and related services (NOT home‐work packets) whenever they are removed via suspensions\expulsion for more than 10 school days annually. Requiring school districts to provide direct educational and related services can serve as a deterrent to suspending students;
A student's right to a Manifestation Determination Review (MDR), the legal standard for the MDR, the individuals required to make the decision, the student records that must be reviewed in making the decision and strategies for obtaining accurate MDR decisions.
SDLC's Resource Manual also addresses effective educational practices including detailed discussions of related services; the essential elements of quality Functional Behavioral Assessments (FBAs); and the essential elements of effective Behavior Intervention Plans (BIPs) including the use of PBIS.
The Manual also includes a number of practical tools called Protocols that can be used as checklists to ensure that related services, FBAs and BIPs include the various criteria and essential elements discussed in the effective educational practices sections of the Manual.