Good question from Marissa on the Community Helpline today.
I had an IEP meeting with my son's school on Monday. I didn't agree with it, but signed it. How many days do I have to revise his IEP?
You have a right to request an IEP meeting to review and revise your child's IEP at any time. The federal law does not specify a "time limit" for requesting a revision, but there are more questions.
What did you sign? Was this an initial IEP? Did your signature indicate your initial consent for the school to provide special education services? Or, did you simply sign that you had attended the IEP meeting?
Check your state regulations about:
reviewing and revising the IEP
signing the IEP
You signed the IEP even though you did not agree with the services the school proposed. Did you note your disagreement on the IEP?
You need to let the school know that you do not agree to the IEP. Write a short, polite letter to the school to explain your questions and concerns. Request another IEP meeting to address your concerns and review the IEP. Then prepare for the next meeting – identify any problems and be prepared to propose solutions.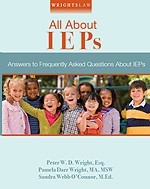 In Chapter 11 of the new Wrightslaw: All About IEPs, you'll find the answer to your question and many others about "Reviewing and Revising the IEP".
You'll learn about requesting a meeting to review and revise your child's IEP. You will learn about problems that trigger a meeting to review and revise, and a new provision in the law that allows parents and schools to amend the IEP by agreement.You'll also learn about the requirements to notify school personnel about their new responsibilities after an IEP is revised.
In Chapter 1, find out how to plan and prepare for successful IEP meetings.
Chapter 3 is about parental participation and consent.
Coming Soon! Fall of 2009! If you subscribe to the Special Ed Advocate, you will receive a notice when Wrightslaw: All About IEPs has been published and a pre-publication special offer.