This time of year the football chant is ringing in our heads – "We've got the pow-er!" This year, get some of that advocacy power!
"Key changes in the special education arena this year have given parents more decision-making power regarding their children with special needs. For example…the new Part B revocation of consent rule allows parents to withdraw consent for special education services at anytime. What's more, parents now can seek reimbursement for the cost of private school tuition even if their child has never received special ed services in a public school. Forest Grove Sch. Dist. v. T.A., 52 IDELR 151 (U.S. 2009)."*
If you don't have it, get some advocacy power. Here's what Sharon Mullen did.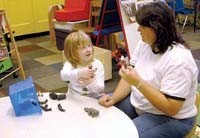 Sharon says, "you have to be your child's best advocate because no one else will do it for you."
Sharon realized she must educate herself to be the best advocate for Emily. Now, she also provides advice and information to parents of special-needs children and serves on her SEAC. Sharon wanted to be "in the know" about the IEP process and wanted to make sure she gave other parents the right information.
Read Sharon and Emily's story in the Martinsville Bulletin.
Sharon uses the easy "train at home," self-paced Wrightslaw Special Ed Law and Advocacy training on CD-ROM together with the course books.
If you have the power, share it with others. Here's what Sharon Dobkin did.
I am smiling BIG time because on Wednesday night I ran a Parent Empowerment Group for the first time in my neighborhood. As I spoke I watched these parents take page after page of notes. Their faces, which had shown all the signs of intimidation when we began, gradually started to change. By the time we finished (more than two hours), these parents were ready to stand up for the rights of their children.

The next morning, I went with one of these parents to her review. She was sure that services would not be awarded. I told her to leave her emotions in her bedroom and rely on her evidence of need. She presented herself beautifully and I only intervened when I saw that more rigorous questioning of the teacher was necessary. Needless to say, we got the services we wanted, and mom walked out beaming!
Find out more about starting a parent advocacy group.
* By Special Ed e-News from the Special Ed Connection.