Although I read your newsletter, I am at a loss about how to get my child the services he needs. He is is 9 years old and is diagnosed with ADHD, Tourette Syndrome and Bipolar Depression.

I am fighting a losing battle with the special educators about providing my son with the services he needs and is entitled to. After many confrontations and my persistent insistence, they placed him in a self contained class for emotionally disturbed children for one hour a day. The teacher disagrees that he needs these services.

I have been told by friends that my son's rights are being violated. I am very frustrated. What can I do?
You need to get out of the loop! (More about this in a minute)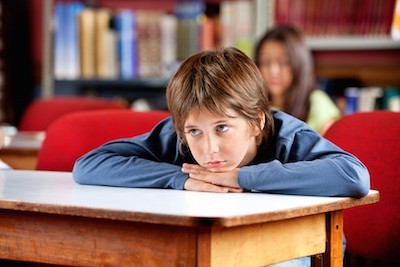 Have your child evaluated by an expert in the private sector who is knowledgeable about neuro-behavioral conditions like ADHD and Tourette Syndrome AND special education. A comprehensive evaluation will give you invaluable information about your child's unique needs and the educational services he needs.
Ask the evaluator to make recommendations about an appropriate program that will meet your child's needs. Ask the evaluator to attend the next IEP meeting to explain your son's needs. (This will help you get 'out of the loop').
Relations between you and school personnel are polarized.
You push. The school digs in. You demand. The school places your son in a self contained class for emotionally disturbed children. Conflict increases. No one wins. Your child is caught in the middle. He is the ultimate loser.
Those of you who are "seasoned" advocates have certainly heard this advice before.  But every year, as parents who are relatively new to the system get ready for the new school year, we receive hundreds of emails with cries for help.
Learn How to Advocate
Conflict and disagreements between parents and school staff are normal, predictable events. These problems are not unique to you, your child, special education, or your school district – this is the nature of the parent-school relationship.
You say "I have been told that my child's rights are being violated." Without more information, it's impossible to know if this statement is accurate.
As a parent, you negotiate for services. To be a good negotiator, you need to know the other side's perceptions and position as well or better than you know your own.
Learn how to persuade others to hear your concerns and want to help.
Complaining that your child's rights have been violated will not cause the school to provide better services.
Take time to learn to how to be an effective advocate. Your child is young. You have a long road ahead of you. You will find that this is time well-spent.
A Good Starting Point
You need to learn advocacy skills. Visit the Parent Advocacy page – you will find dozens of articles and resources that will help you get started.
Emergency! Crisis! Help! You need to realize that you can damage your child's case and your child by reacting emotionally, acting impulsively, or believing the school must DO SOMETHING RIGHT NOW!
While you are waiting for your appointment with the private sector evaluator, read our articles about creating paper trails and how to write effective letters. Learn how to be Mike Manners, and not Bob Bombastic.
Our book, Wrightslaw: From Emotions to Advocacy – The Special Education Survival Guide includes a chapter about paper trails (why and how to use logs, calendars, journals) and two chapters on how to write letters. You will also find 16 sample letters that you can use or tailor to your circumstances.
If you are serious about learning how to be an effective advocate for your child, get educated! Wrightslaw training programs are held around the country. If a program is not near you, or you want to learn at your own pace, you can order the Special Education Law & Advocacy Training program.