The most recent publication in Wrightslaw's Year in Review series is coming soon!
Wrightslaw: Special Education Legal Developments and Cases 2018 will include:
All decisions in IDEA cases by Courts of Appeals in 2018.
Table of 2018 Special Education Decisions with date, court, description of issues, outcome.
Comprehensive description of each 2018 Decision, including prevailing party
2018 Wrightslaw Case of the Year, L.H. v. Hamilton County Department of Education.
In the download version, the search feature will make it easy for you to find relevant information about issues and cases.
Cases in the Table of Special Education Decisions are hyperlinked to Case Descriptions / Summaries.
**  Are you on our free newsletter list?  **
When the print version goes to the printer, we will send you an announcement and a special pre-publication offer.
Please check your email box for updates about this new book — it's a winner!
Wrightslaw Year in Review Series
Be in a stronger position to understand the evolution of special education legal issues. Get a clearer sense about unwritten factors affecting case decisions and learn how the law is evolving in your Circuit.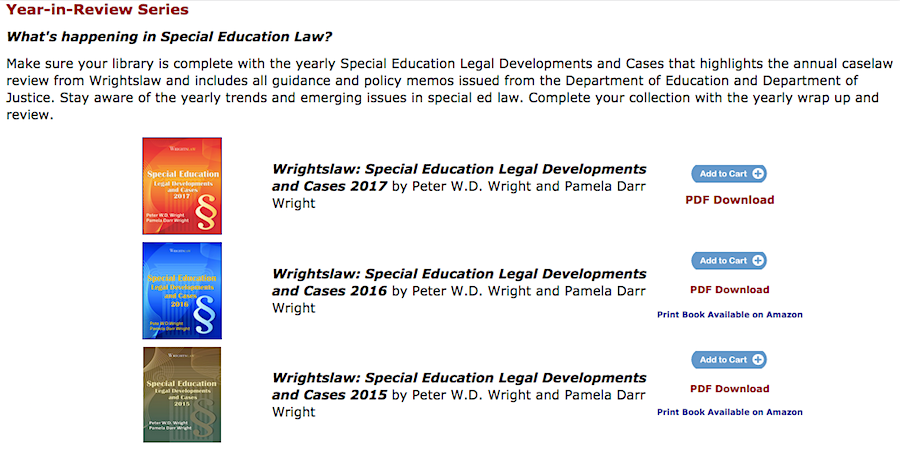 Stay up-to-date on exciting new developments in special education law. Learn about trends and emerging issues in special education law. Complete your collection with the annual wrap up and review in the Year in Review Series.
2018 Case of the Year
Each book in the Year in Review series includes Wrightslaw Cases of the Year. These cases are "must reads" for special education attorneys, advocates, and others who are interested in special education law.
2018 Wrightslaw Case of the Year, L.H. v. Hamilton County, is a powerful Mainstreaming/Inclusion case that attorneys will rely upon for many years.
In this case, the parents prevailed in this Sixth Circuit decision about mainstreaming/inclusion, LRE, FAPE, parental rights, and tuition reimbursement.
Meet Luke
Luke (L.H.) is a child with Down Syndrome. He is a sociable, likeable child. Yet school staff had low expectations for Luke, segregated him in the back of class before they placed him, over his parents' clearly expressed objections, in a self-contained classroom in another school.
The Court held that the school violated the procedural requirement of IDEA, was unable to design an IEP to meet Luke's needs, and therefore denied FAPE.
Sixth Circuit Decision
Judge Batchelder's opinion was passionate. The decision had much to say about the obliviousness of school staff who refused to develop an IEP that included Luke because they didn't believe mainstreaming could work.
We conclude that the educational program at TMS satisfied the IDEA and, therefore, LH's parents were entitled to reimbursement. The district court erred in holding otherwise.
The 6th Circuit decision in L.H. v. Hamilton describes the school district's arguments as worrisome and bizarre and others as disingenuous and without merit.
The Court found that –
This is really an argument against 'mainstreaming' as a concept, because [the district] believes it is impossible, impracticable, or counterproductive.
…if it is truly [the district's] view, then it is worrisome and inadvertently supports … that the teachers and staff reject mainstreaming because they don't understand it, don't believe in it, and need training on why it is valuable and how to do it.
In Wrightslaw: Special Education Legal Developments & Cases 2018, you will learn how much the court ordered the school district to pay.
Read the Analysis of L.H. v. Hamilton County Department of Education by Pete Wright and Pamela Darr Wright.