Cool Tools from Wrightslaw!
| | | | |
| --- | --- | --- | --- |
| | Need help? Try one ... | | |

On this "Cool Tools" page, you will find Pop-Up Boxes, Checklists, Written Assignments, Polls, and Quizzes from Wrightslaw.
These tools will help you learn about IDEA requirements, get answers to your questions, find federal law or regulations, and access additional resources. Use these cool tools as you learn special education advocacy tactics and strategies to help you anticipate problems, manage conflict, and avoid crises.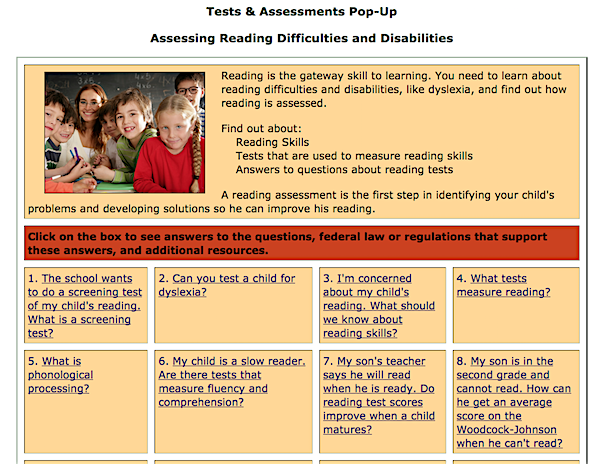 Developing Your Child's IEP. Click on the pop-up box to learn about IDEA requirements, see answers to your questions, find federal law or regulations that support these answers, and a list of additional resources.
Special Factors in IEPs. Find what special factors need to be considered by the IEP team, how the IEP must address these factors, and learn what the federal law and regulations require.
Resolving IEP Disputes. Click on the pop-up box to learn strategies to resolve disagreements, steps to take if you disagree with the school, and options you have if unable to resolve disputes.
Assessing Reading Difficulties & Disabilities Pop-Up. Reading assessment is the first step in identifying your child's problems and developing solutions so she can improve her reading. Find out about reading skills and what tests are used to measure these skills.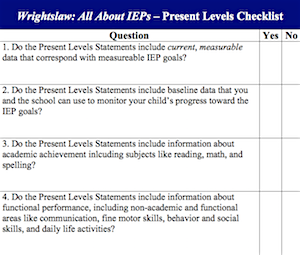 IEP Checklist: Is Your Child's IEP Individualized? What Does it Take? When you answer the questions on this IEP Checklist, you will know if your child's IEP is individualized, as the law requires.
IEP Checklist: Physical Education Services. Use this checklist to make sure the IEP Team fully addresses your child's physical education services and placement.
Back to School Checklist. As your child's case manager, it is important to get the do's (and don'ts) for a positive school start. Download the Checklist to keep yourself on track. (In Spanish)
Advocacy Game Plan Checklist. If you are a "new" parent or you want to improve your advocacy skills, use this checklist to implement your advocacy game plan.
Tests & Measurements Checklist. To measure and monitor your child's educational progress, you must use information from objective tests and you must know what these scores mean. It is essential that you understand your child's test scores!
All About IEPs Present Levels Checklist. The present levels of performance are the foundation for everything else in the IEP. You must learn how to design accurate and up-to-date Present Levels. Use the checklist to learn how to develop a better Present Levels Statement.
Effective Letter Writing Checklist. Do you know how to write an effective letter to the school? Does your letter meet the requirements? Use this checklist to determine if your letters contain the correct elements. Get a link to print the Checklist and download as a PDF.
Quizzes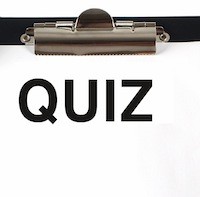 Transition: Summary of Performance (SOP)
How Much Do You Know About Writing Effective Letters?
Special Education Legal & Assessment Terms Vocabulary Quiz?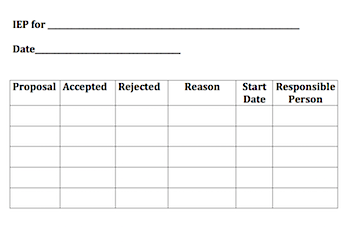 Write a Letter to the School to Request an Action.
Master Provider List. Make a list of all individuals and agencies that may have information or records about your child, or update a previous list. Download the format for your master list.
Learn How to Write a Parent Agenda.
Create a Prior Written Notice form. Download the format in Word or PDF.
Create a Written Notice of a Refused or Tabled Action.
Disagreements with the School: Level Two Follow-up Letter. Write a "level two" follow-up letter to document your concerns in all areas you disagree with the IEP team.
Use Lists to Develop Present Levels. To get a good program and placement, use this assignment to help you develop a "blueprint" for writing accurate and up-to-date Present Levels.
How Organized is Your Child's Special Education File?
Who Is Not a Required Member of the IEP Team?
IEP FAQs: When Do I Get a Copy of the IEP?
Can More Than One Disability be Listed on the IEP?
Do We Over Accommodate Students with Special Needs?
Must Services in the IEP be Provided by a Special Ed Teacher?
As an Advocate, Which Describes You: Appeasing Compromiser or Assertive Parent?
Is Your School Doing a Good Job of Educating ALL Kids?
A Wrightslaw Short Course is a 4 - 6 week series of self-study activities that will help you prepare for the school year.
You'll complete reading and written assignments - and maybe even a quiz or two.
When you've finished the series, you'll get a certificate for a job well done!