Two questions keep coming to mind as I participate in IEP meetings for my daughter and for clients of William & Mary School of Law's PELE Clinic:
1. How can I get my daughter's IEP Team to take my suggestions more seriously?

2. How can I develop a record for clients whose children need extensive accommodations.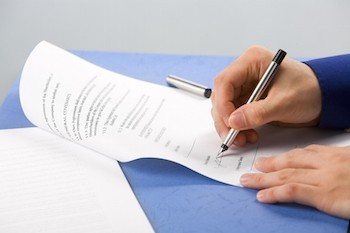 Of course, the first place I looked was Wrightslaw.com. A good article about Prior Written Notice (PWN) is How to Use a "Parent IEP Attachment" by Judy Bonnell.
PWN is a powerful tool when skillfully used.
Essentially, IDEA 2004 requires the IEP team to formally and logically accept or reject any suggestions or requests that an IEP team member makes. (34 C.F.R. § 300.503.) As parents, we are members of the IEP team!
I like the form created by Judy Bonnell and available on Wrightslaw.com. This is the type of form that I will use for my daughter's next IEP meeting.
A More Extensive PWN Form - Includes "Tabled" Actions
I sensed with some clients, who require "big ticket" educational needs like private placement or a one-on-one paraprofessional, I needed a more extensive form to really get the IEP team's attention and to develop the record for future action.
Bringing out the PWN form is a show stopper.
Saying "no" is too easy for some IEP teams. Articulating "an explanation of why the agency . . . refuses to take the action and a description of each evaluation procedure, assessment, record, or report the agency used as a basis for the . . . refused action" (20 U.S.C. 1415(c)) is tough. As an advocate, I can remain nice and let the law be the bad guy!
Schools rarely say straight up that they are refusing a parental request, while "tabling" the request often means the same thing. This PWN form wisely includes refusing/tabling a request and requires an explanation of why the request was tabled and a date for the next consideration of the request.
I typically type out the request on the PWN form:
"We propose a one-on-one paraprofessional in order for Johnny Doe to obtain FAPE based upon the recommendations of pediatrician Mark Meese, pediatric neurologist Sylvia Green, and clinical psychologist Steven Marcus."
When we use the PWN form we always come away with a victory:
either our request is granted, or
we have developed a record that can help in future IEP meetings, mediation, due process, or court.
Download a copy of the PWN form in word or PDF format.
Meet Jeff Martin
Jeff Martin graduated with honors from William & Mary School of Law. During his time at William & Mary, Jeff received the Gambrell Professionalism Award for written and oral advocacy and trial practice.
Jeff was awarded the Perkins Trust Scholarship and received the CALI Award for his work with the PELE Special Education Advocacy Clinic. He was trained in Special Education Law by Pete & Pam Wright.
Jeff represents parents throughout Virginia in all aspects of Special Education law from IEP meetings to Due Process Hearings, though his favorite "client" is his own daughter who is in special education.
Contact Information
Jeffrey C. Martin
Law Office of Jeff Martin
Office: 757-969-5197
Email jcmartinlaw@gmail.com
Created: 01/27/10
Revised: 01/22/16