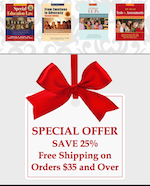 Wrightslaw Christmas Sale! – Save 25% – FREE Shipping on Orders $35 and Over.
Sale includes all Books, E-Books, Training Downloads, Advocacy Supplies and DVD.
Use Coupon Code 20151225 when placing your order! Order Today!
Offer valid through Thursday, December 10, 2015. Tell a friend.
Interested in larger amounts? Everyday get a 40% to 50% discount for Bulk Orders (20 or more per title). Call 1-877-529-4332 for a quote.
Thank you for using Wrightslaw materials! Merry Christmas!