We want to get a private evaluation of my child. The school says they are also going to conduct an evaluation of my child, and the two evaluations must be comparable. Is this correct?
Parents often claim that the school's evaluation is not comprehensive and does not test problematic skills.
If the school has evaluated your child and you disagree with the school's evaluation, you may obtain an independent evaluation.
You may:
arrange for an independent evaluation from an evaluator who is not employed by the school district, or
request an "Independent Educational Evaluation" (IEE) at public expense
The law does NOT REQUIRE that evaluations be comparable, test the same skills, or use the same tests.
An IEE should address any areas that were neglected in the school's evaluation.
The child's team should never rely on one test or one test score when making decisions about a child's educational programming.
BUT…
if you want to measure a child's progress on the same skill, you need to compare apples to apples and oranges to oranges – so it's usually important to use the same edition of the same tests of that skill.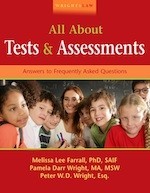 New editions of tests do not always measure the same sets of skills.
Your evaluator needs to have copies of earlier testing done on your child so he doesn't use different tests or different editions of tests to measure your child's progress on a particular skill.  (Wrightslaw: All About Tests, Chapter 7.)
We recommend that parents who want to obtain an independent evaluation read these articles.
A comprehensive evaluation from the private sector will give you a roadmap in planning for the future.
More from Wrightslaw.com
You are currently reading articles on the Wrightslaw Way Blog.  For more information, in depth articles, resources, and publications – go to the main Wrightslaw website at www.wrightslaw.com – or click the links below.
What You Should Know about Evaluations
How Can We Get an Independent Evaluation by an Evaluator of Our Choice?
Independent Educational Evaluations: What? Why? How? Who Pays?
Must Parent's Select an Evaluator from the School's Approved List?