My son is entering 6th grade. His reading skills are at the 3rd grade level. His pediatrician thinks he has dyslexia.

The school insists that he is "making progress." I don't agree. I requested information about the reading tests that show he is "making progress."

Please tell me the names of tests the school should use to assess for reading problems like dyslexia. What tests should they use in an educational evaluation?
Dyslexia is a specific learning disability that affects language.
A child with dyslexia has difficulty reading accurately and fluently. Spelling is usually poor. Most children with dyslexia have weaknesses in phonological processing. Many also have weaknesses in rapid naming.
Most standardized, norm-referenced tests that are used to test for learning disabilities are also used to evaluate children for dyslexia.
Reading encompasses many skills.  test measures all these reading skills. Different tests measure different reading skills.
Reading Assessments
To get up to speed on the tests used to measure different reading skills…read Chapter 6: Reading Assessments, in Wrightslaw: All About Tests and Assessments. You will learn about the different reading skills, what a comprehensive reading assessment should measure, and tests that should be included.
Frequently used multiple-subject achievement tests used to assess reading skills include the KTEA-II, WIAT-III, and the WJ IV ACH.
There are other single-subject reading tests that provide more information about your child's strengths and weaknesses in reading. For example: CTOPP2, TOWRE-2, GORT-5, TOSWRF.
Table 6-1 in All About Tests and Assessments will give you a snapshot of Reading Tests and the Skills They Measure.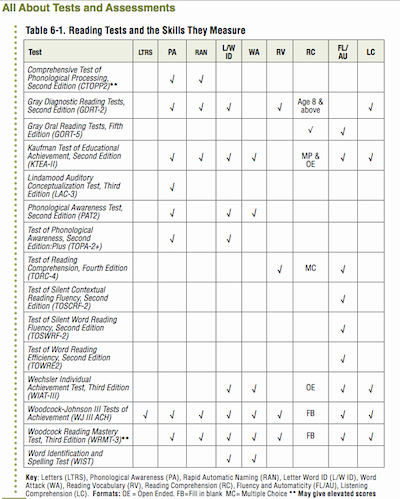 Chapter 6 includes in-depth information about reading tests and informal reading inventories.
Learn about tests that measure reading skills in nonverbal children and more FAQs about Reading Assessments in Chapter 6, Wrightslaw: All About Tests and Assessments.