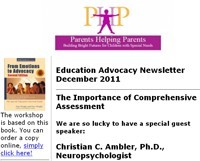 That's what Loni Allen decided to do after reading Wrightslaw: From Emotions to Advocacy (FETA). Loni is an educational resource specialist at Parents Helping Parents (PHP), the Parent Training and Information Center in San Jose, California.
Loni says, "When I read  From Emotions to Advocacy, I knew it would be a wonderful tool for parents and would help them understand their role in the special education process."
Loni decided to structure the study group meetings like a book club and use the book as the basis of the meetings.
What happens at this Workshop?
The group moves through sections of the book, From Emotions to Advocacy, using Power Point, handouts about community and state resources, and online resources to present each evening's topic.  You'll take home tips, strategies, and information to empower your ability to advocate effectively.
At PHP, Advocacy Workshops meet the 1st Tuesday of each month.
If you are in the CA area and interested in training workshops – check out the Education Advocacy Newsletter for December 2011.
To find out more about this FETA study group and other advocacy workshops and to sign up for the e-newsletter, go to the PHP website.
Loni shares the secrets of organizing and facilitating a group and gives tips about How to Start an Educational Advocacy Study Group.
Learn how you can start a FETA study group in Take Action, Help Others: Start a FETA Study Group. You'll find strategies and pitfalls, how to get free publicity and learn how to change your school's culture.
Taking action to help others was part of the advocacy game plan and the final challenge during Summer School for Parents 2008.