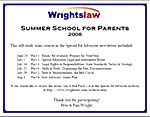 Congratulations! You've completed Summer School for Parents, the six week series to becoming a more effective parent advocate.
Thank you for participating. You've worked hard reading, learning statistics to measure progress, completing written assignments, submitting answers to quizzes, improving your skills. You're motivated and empowered.
Well done! Your certificate is below.
We appreciate your positive comments about the series.
"This summer school series for parents you've been running in the newsletter is perfect for the parents I'm training at the Parent Information Center workshops. You haven't just told parents what to learn, you are telling them how to learn it and how to approach the learning."
In this issue of the Special Ed Advocate we'll tell you how you can practice your new advocacy skills and ways to share your knowledge, resources, and game plan with others.
Please don't hesitate to forward this final issue of Summer School for Parents to other families, friends, and colleagues.
---
Develop a Long Term Plan for Your Child
Remember your initial fears when you asked the school for services for your child?
"All of this is new. I'm overwhelmed. Where do I start?" Now you know!
If you are not sold on the importance of developing a long term plan for your child, read Long Term Planning by Pete & Pam Wright.
Do you have your long term goals for your child in place? Don't expect school personnel to develop this plan - it's your responsibility.
Begin by thinking about your vision for your child's future.
What are your long-term goals for your child?
What will your child need to learn?
What services and supports will your child need to meet these goals?
Find out how planning can make a difference. Read Laura and Steve's Success Story: Plans Are Our Safety Net.
More tips: Parent Advocacy: What You Should Do...and Not Do.
---
You don't need to take your advocacy journey alone. Here's how you can get accurate information and support.
Join the Council of Parent Attorneys and Advocates (COPAA)

The Council of Parent Attorneys and Advocates (COPAA) is the national organization of attorneys, education advocates and parents. COPAA focuses on special education rights and excellence in advocacy. Mission

As a member, you have access to moderated discussion groups (listservs), databanks of legal documents, and materials by leading special education attorneys and advocates.
Join an Organization . . . or Two

It is essential that you join disabilities organizations that represent your child's disability. These organizations provide a rich source of information and support that is invaluable to parents, regardless of the child's handicapping condition.
Provide Support to Others
Offer to go to IEP Team meetings with parents to be a friendly face at the table. When it is not your child's IEP meeting, you do not have the same emotional reaction, you are more objective. This is a great way to learn and practice advocacy skills and provide support for others.
back to the top
---
Learn More: Special Ed Law & Advocacy Training with Pete & Pam
Attend a Wrightslaw special education law and advocacy training program or seminar. You can always find the schedule in the sidebar on this newsletter, on the Wrightslaw Way Blog, or at Wrightslaw.com.
Have you always wanted to attend a Wrightslaw training, but were not able to travel?
Now you can train at home or in your office. You don't have to travel, so you save time and money. It's easy with Wrightslaw WebEx Training on CD-ROM.
This is training you can pause, rewind, fast forward, or repeat. Study whenever your schedule permits. Listen while you're doing the laundry or packing lunches, then rewind and focus on important concepts as often as you want.
You may also want to contact your local Parent Training and Information Center to ask about PTI training in your area.
back to the top
---
Now that you've ramped up your advocacy skills, plan to share them with others.
What can one person do, you ask?
You can Organize a Successful Parent Group
Sue Whitney Heath provides a plan for parents who want to start an advocacy organization and make it successful.
Parents put together Public Law 94-142. Parents who vote urged COngress to pass the law that became the Individuals with disabilities Education Act.
You have no idea the power you have! Find out What One Person Can Do. With little time and absolutely no money, you an being current, official, accurate information to large numbers of people.
Learn how you can start a FETA study group in Take Action, Help Others: Start a FETA Study Group. You'll find strategies and pitfalls, how to get free publicity and learn how to change your school's culture.
Loni Allen, an educational resource specialist at Parents Helping Parents, shares the secrets of organizing and facilitating a FETA group in How to Start an Educational Advocacy Study Group.
back to the top
---
Congratulations! from Pete & Pam
Good luck on your journey From Emotions to Advocacy!
If you would like to review the six sessions or share them with others, you'll find them here: Summer School for Parents 2008.
Here's your Summer School for Parents Certificate
---