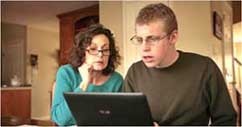 When it comes to special education, Becky McGee and her 19-year-old son, Kyle, feel as if they've seen it all. Ms. McGee hopes her hard-won lessons might benefit other parents.
Kyle was born with orthopedic and neurological problems. In elementary school he was found to have several learning disabilities that included severe dyslexia and attention-deficit disorder. Becky and her husband Chuck sought therapy and interventions to help Kyle succeed in the York County Public School system in Yorktown, Virginia.

Throughout Kyle's elementary, middle and high school years, Kyle's parents had to fight for special services, particularly for an appropriate reading program for dyslexia. Kyle's  parents repeatedly asked York County provide an appropriate reading program. The school refused. Kyle did not learn to read.
When Kyle was in sixth grade, he was still reading at the 1st grade level.
Kyle and his parents retained by Pete Wright, a attorney who represents children with disabilities in special education cases.
Becky and Chuck knew their son could not master high school material until he learned to read. They placed Kyle in private school for two years, and often paid for reading therapies that the school could not or would not provide.
When Kyle returned to the public high school, the roller-coaster ride continued. With support and assistance from his parents, Kyle graduated from high school with a regular diploma. He is now enrolled at ECPI College of Technology where he studies computer networking.
"Kyle is an amazing kid, and he's doing great," Becky said. "All I can say now is I'm glad public school is behind us.
Know Your Rights
"It's really important for every parent of a disabled child to understand the law thoroughly, so you know what your rights are and what services your child may be eligible for," said Peter Wright, the education lawyer and advocate who assisted Ms. McGee.
Parents have extensive rights under IDEA, including the right to ask for an evaluation or a re-evaluation of their child at any time. Most important, however, is the parents' right to be part of the team that decides what special education services and therapies the child will receive.
"The law was written with the idea that parents are equal participants in developing the child's education plan," says Ron Hager, senior staff lawyer at the National Disability Rights Network.
IDEA requires each child with a learning disability to have an individualized education plan tailored specifically to his or her unique needs. The child may need services like speech and occupational therapy, reading intervention, and a full-time aide in the classroom.
Decisions about the services your child will receive are made at your child's individualized education plan meeting. In addition the child's parents, your child's IEP team includes your child's classroom teachers, a special education instructor, a person who understands test results, and a school administrator who represents the school district.
You need to be informed about your child's specific disability and needs.
"I can't tell you how many times I've been the one to tell the school what's exactly in the law," Ms. McGee said. "After all, these are teachers and administrators, not lawyers. I always take a copy of the law with me."
Ms. McGee suggests that when you meet with school's staff members about your child's IEP, you take along a spouse or a good friend who knows your child well. Even in the best cases, these meetings can be extremely emotional, Ms. McGee said.
"The specialists and administrators on the other side of the table are telling me my son is behind on this, he can't do that, he's not up to speed on such and such," she said. "It's all helpful information, but it's still difficult."
Getting More Help
What if your child has an Individualized Education Plan (IEP) but you know your child needs more intervention? Your child may have fine-motor problems but isn't receiving occupational therapy (OT). Or your child receives therapy once a month, but you think your child needs therapy once a week.
If your child is not making progress under the IEP, you should question the plan. As a parents, you may request an IEP team meeting at any time. Make your request in writing. During the meeting, make your case for more services.
"Anytime you're asking for more, that's when you're going to get into an argument," Ms. McGee said.
Schools resist because extra services can cost more. Aside from cost, schools do not want parents dictating the services they must provide. During meetings, each side can be territorial.
"There can definitely be tension between the parent and the school," said Ron Hager, senior staff lawyer at the National Disability Rights Network. "You as the parent know your child best, but the teachers and administrators see themselves as the experts."
Your best defense? First, listen to the educators; they might know what they're talking about.
But parents should also become experts themselves. You need to learn about your child's disabilities, specific needs, and the treatments and therapies that work for his or her issues, Mr. Hager advised. Then you need to make a compelling case to your child's IEP team.
If you find that the school is not acknowledging problems that interfere with your child's learning, you can ask to have your child re-evaluated. To expedite this process, parents often pay for an evaluation by an expert in the private sector. The costs range $500 to $5,000, depending on the tests. (For more about low-cost evaluations, see Resources for Parents of Students with Learning Disabilities by Walecia Konrad.)
Finally, said Ms. McGee, "you have to think creatively."
When Kyle was in elementary school, the parents asked the school to provide occupational therapy. The school refused, arguing that OT was a medical need, not an educational need.
"But the law says the child should be provided the support needed to get through the academic day," argued Ms. McGee. "Lunch is part of the day, and Kyle needed to be able to hold his lunch tray." McGee succeeded in her argument, and Kyle received occupational therapy.
Hitting an Impasse

If you cannot reach an agreement with your child's school, you have the right to a due process hearing. An administrative law judge or hearing officer will hear evidence and issue a ruling. Before you request a due process hearing, consult with an attorney who has expertise in special education law. During a due process hearing, you want a lawyer or professional advocate by your side.
Why do you need an attorney?
"If you've taken your fight this far, you want to make sure you're getting the best chance for success," said Olga Pribyl, managing lawyer for the special education office at Equip for Equality, an advocacy center in Illinois.
Ms. Pribyl explains, "Studies in Illinois show that parents who are not represented by lawyers lose due process hearings 80 percent of the time in that state. If parents are represented, they prevail about 50 percent of the time."
Doing Your Homework
Parents should do their homework so they can contribute to their child's Individualized Educational Programs (IEPs).
Begin your homework by learning about the Individuals With Disabilities Education Act. All states have Parent Training and Information Centers (PTIs). To find the PTIs in your state, go to the Yellow Pages for Kids here. The PTI staff can explain your child's rights and your rights under IDEA and how this applies to your family.
For more good advice and practical help, see Resources for Parents of Students with Learning Disabilities by Walecia Konrad.
Note: This post is based on Nudging Schools to Help Students with Learning Disabilities by Walecia Konrad, published on February 26, 2010 by The New York Times. This article is the second in a series about Navigating the Special Education System by The New York Times.