Inclusion:  What does the research say?
There is a strong research base to support the education of children with disabilities alongside their non-disabled peers.
Although separate classes, with lower student to teacher ratios, controlled environments, and specially trained staff would seem to offer benefits to a child with a disability, research fails to demonstrate the effectiveness of such programs (Lipsky, 1997; Sailor, 2003).
There is mounting evidence that, other than a smaller class size, "there is little that is special about the special education system," and that the negative effects of separating children with disabilities from their peers far outweigh any benefit to smaller classes (Audette & Algozzine, 1997).    – from What Does the Research Say about Inclusion? by Dr. Kathleen Whitbread.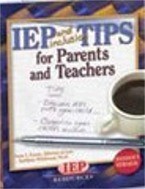 Kathleen Whitbread, Ph.D., is an associate professor of education at the University of Saint Joseph in West Hartford, CT, where she teaches graduate and undergraduate courses in special education.
Parents as Equal Partners in the IEP Process
IEP and Inclusion Tips for Parents and Teachers by Anne Eason and Kathleen Whitbread provides parents with tips and strategies for making inclusive education a reality for their children.
Parents can use these strategies to be more active participants in the IEP process and to develop meaningful education programs for their children
These strategies are not expensive. They do not require parents to obtain degrees in education or advocacy.
IEP Tips offers common sense approaches about how to advocate effectively for children with disabilities. The book also provides information about evaluating student progress.
"It is our hope that these tips will prove useful for families as they advocate for their children, and will allow parents to come the IEP table as true and equal partners in the IEP process."
What Does the Research Say about Inclusion? is included in IEP and Inclusion Tips for Parents and Teachers.