"In 2019, the National Assessment of Educational Progress (NAEP) administered the reading assessment to representative samples of fourth- and eighth-grade students in the nation, states, the District of Columbia, Department of Defense schools, and 27 participating large urban districts."
The most recent reading results from the 2019 assessments were released by NAEP on October 30, 2019.
"In 2019, average reading scores were lower for both fourth- and eighth-grade students compared to 2017: scores were lower by 1 point at fourth grade and lower by 3 points at eighth grade."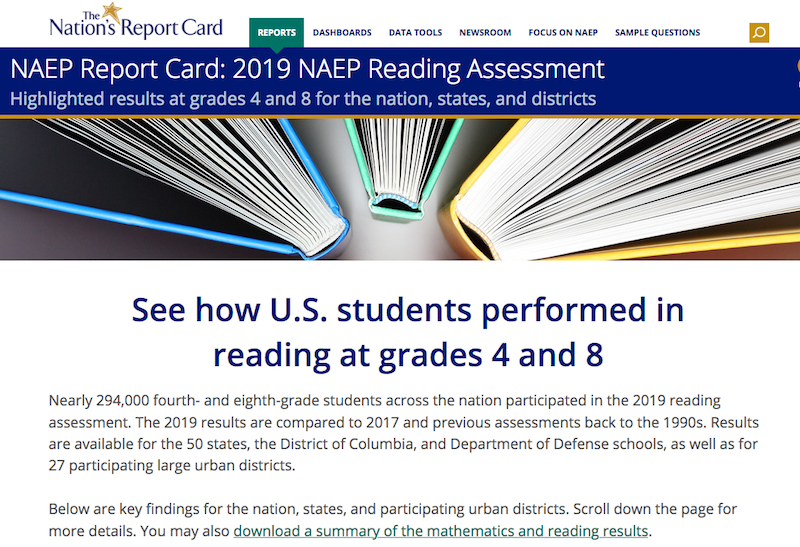 Explore the Reading results and find the sub-group data.
There were lower reading scores at both grades in 2019 than in 2017.  Score decreases differ by gender nationally and across states.
Infographic Summary of Reading and Math Results.
Lower Average Reading Scores
"When examining trends by states/jurisdictions, average reading scores in 2019 were lower than in 2017 in 17 states at grade 4 and in 31 states at grade 8; at each grade, one state/jurisdiction had a score increase."
Where did your state score in reading?
https://www.nationsreportcard.gov/profiles/stateprofile?chort=1&sub=MAT&sj=&sfj=NP&st=MN&year=2017R3%2F
Math Scores
4th and 8th grade Mathematics highlights.
https://www.nationsreportcard.gov/highlights/mathematics/2019/
See the infographic summary of mathematics results.
Using digitally based assessments.