As the parent of a child with special educational needs, you represent your child's interests. When you know how to advocate on your child's behalf, you increase the odds that your child will get an appropriate education. You can't leave this job to others!
Although most people are focused on the holidays, IEP season will be here before you know it. A Wrightslaw training program will teach the knowledge and skills you need to be an effective advocate.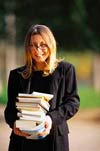 In January 2009, Wrightslaw special education law & advocacy training programs will be
 held in Connecticut, Florida, and Virginia. Sign up today!
January 14, 2009: Waterbury, CT – IDEA 2004 and NCLB: What You Don't Know CAN Hurt You! sponsored by the Learning Disabilities Association of Connecticut, Inc. Speaker: Wayne Steedman.
January 16-17, 2009: Weeki Wachee (Spring Hill Area), FL – Special Education Law and Advocacy Boot Camp sponsored by the Special Students of Hernando. Speakers: Pete and Pam Wright.
January 30, 2009: Williamsburg, VA – Special Education Law and Advocacy sponsored by the William & Mary Law School. Speakers: Pete and Pam Wright.
Over the next few months, Wrightslaw programs will be held in North Carolina, California, Arizona, Maryland, Massachusetts, Florida, Pennsylvania, Hawai'i, and New York City. For information about these programs and a complete list of upcoming programs, please visit our schedule page. 
Can't attend a live program?

The Special Education Law and Advocacy Training program on CD-ROM includes all the content of the live Wrightslaw program … and more than an hour of bonus content. Your instructors are Pete Wright and Pam Wright.
Wrightslaw Training programs on CD-ROM are available 24/7 – wherever you live, whenever you want. Work at your own pace. Eliminate distractions and schedule your study periods at times that meet your needs.