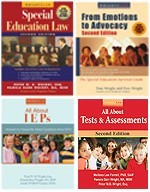 Can't decide on what Wrightslaw book to order? The Wrightslaw Bundle will take care of that!
Save $15.56! Order the Wrightslaw Bundle for $62.24 (that's a 20% discount!)
Includes: Wrightslaw: Special Education Law, 2nd Edition, Wrightslaw: From Emotions to Advocacy, 2nd Edition, Wrightslaw: All About IEPs and Wrightslaw: All About Tests and Assessments, 2nd Edition.
Click here to check out the entire Wrightslaw store!