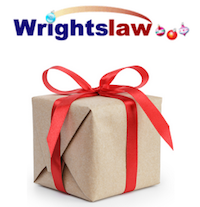 Sale Ends Tonight, Midnight, December 16, 2019!
Gift your Library, Friend, School, Advocate, Favorite Disability Group or Yourself this Season!
Save 25% on Print Books, Kindle, E-Pub, PDFs, Training Downloads, Advocacy Supplies and more…
Use Coupon Code 12252019 to receive discount.
For up to 50% off on bulk orders email or call 877-529-4332.
Our Christmas Sale is no longer in progress. Go to the Store for a special deal on the Wrightslaw Bundle of books.
Check out our bestsellers –
Wrightslaw: Special Education Law, 2nd Edition