My son is in 3rd grade, reading on a Kindergarten level. The school says he has to be taught using 3rd grade materials so he has access to the curriculum, even though above his reading level. He is in full time VE and those goals are more appropriate. He is miserable and becoming a behavior problem.
The U.S. Department of Education just issued a Guidance Letter on this topic.
This Letter is the policy of the Department of Education and is based on federal law.
A school district cannot adopt a position that violates federal law.
You will find this Policy Letter in Chapter 2, page 38 of Wrightslaw: Special Education Legal Developments and Cases 2015. (See below.)
The letter focuses on pervasive problems related to low expectations for children with disabilities and the requirements that schools provide the educational assistance each child needs.
The letter clarifies
…that an individualized education program (IEP) for an eligible child with a disability under the Individuals with Disabilities Education Act (IDEA) must be aligned with the State's academic content standards for the grade in which the child is enrolled.
… that children with disabilities who struggle in reading and mathematics can successfully learn grade-level content and make significant academic progress when appropriate instruction, services, and supports are provided.
…low expectations can lead to children with disabilities receiving less challenging instruction that reflects below grade-level content standards, and thereby not learning what they need to succeed at the grade in which they are enrolled.
That said – it is essential that the school is providing appropriate reading instruction using a research based reading program that has a proven record of success before your child falls even further behind, or his behavior worsens.
The law requires schools to provide services (reading instruction) that are individualized to meet the unique needs of each child.
OSEP Dear Colleague Policy and Guidance Letters help clarify the law for parents, and are very useful in educating school staff and administrators about their legal responsibilities.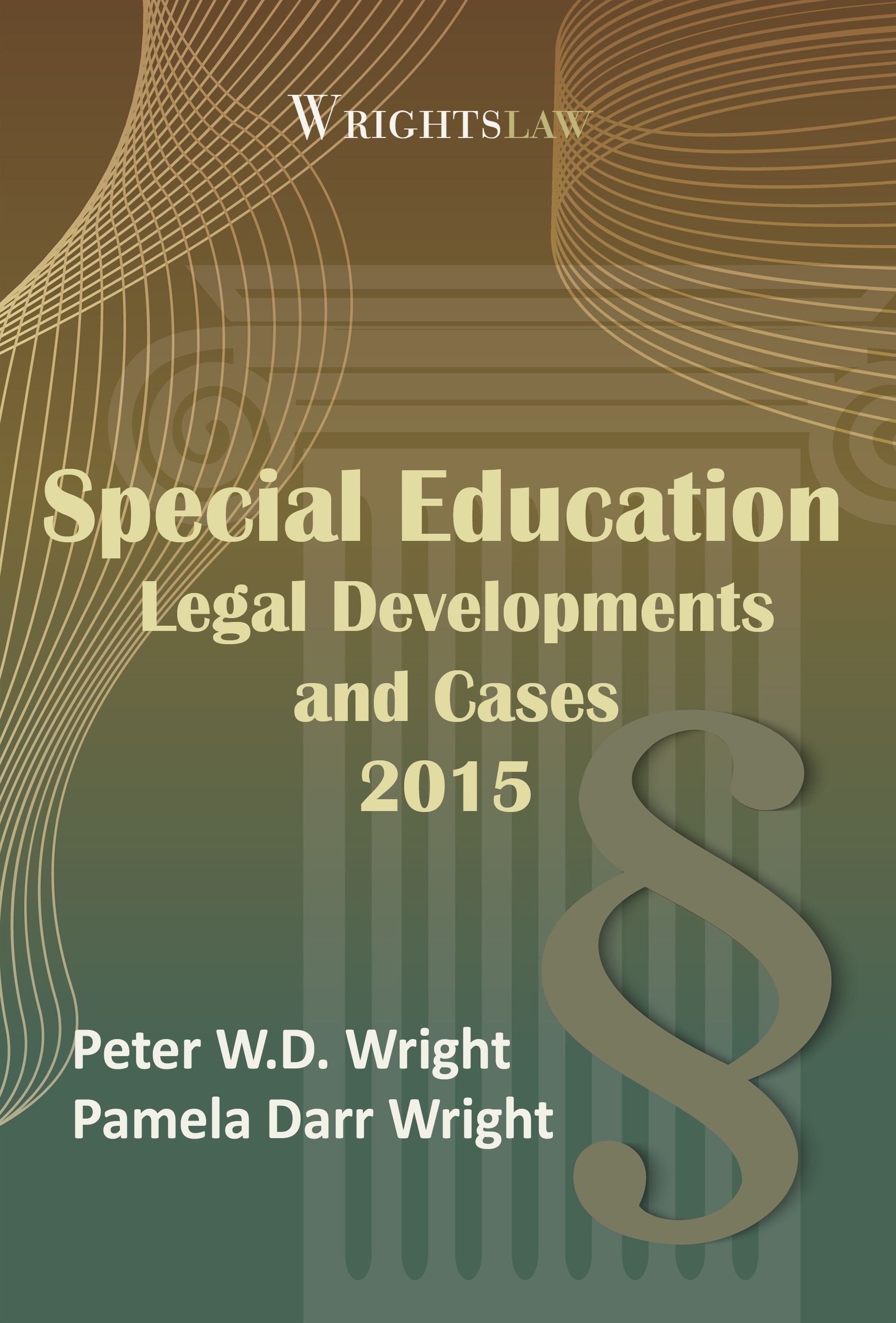 Wrightslaw: Special Education Legal Developments and Cases 2015 helps you stay up-to-date on policy guidance from OSEP.
In Chapter 2 includes actions and opinions from the U.S. Department of Justice (DOJ) and U.S. Department of Education and Rehabilitation Services (OSERS) and the Office of Special Education Programs (OSEP).
Wrightslaw: Special Education Legal Developments and Cases 2015 also includes legal developments and key decisions from the Courts of Appeals in IDEA cases during 2015.
In Chapter 3, a Table of Decisions includes the date, court, synopsis of legal issues, outcome, and prevailing party in the cases. Each case in the Table of Decisions is linked to a summary of the case where the Court's words are used to describe the issues in the case and the Court's rulings. Each case also includes a link to the full text of the decision as published in Google Scholar.

Get your copy today! Order PDF format from Wrightslaw. Immediate Download. Wrightslaw Price $14.95 
Order Print Edition from Amazon
Request a Copy of the School Policy
When a school team cites "district policy" to support their position, you can request a copy of this policy. It's always best to make this request in writing.
Your state may put some extra responsibility on schools for working with struggling readers.
Learn what your state regulations say.  You will find them on your State Department of Education listing in the Yellow Pages for Kids.
http://www.yellowpagesforkids.com/help/seas.htm
You can also get information & support from your regional Parent Training & Information Center.