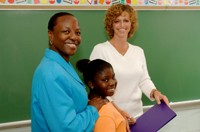 In our training programs, we tell parents, "Unless you are prepared to remove your child from public school forever, you need to view your relationship with the school as a marriage without the possibility of divorce."
As a parent, it's important to understand that you will be negotiating for special education services with the school on your child's behalf for many years.  If your relationship with the school is polarized, you need to work on restructuring your relationship with school personnel.
Focus on Problem Solving
How do you react when another person – someone you do not know well – makes demands of you? Does this make you rethink your position? If you are like most people, you will defend yourself. Making demands is not effective.
As a parent, your goal is to make the school want to help your child and your family. You will not succeed by writing demanding letters or waving law at school personnel.
We urge parents to focus on solving problems while protecting the parent – school relationship.
A teacher emails:
I am a Special Education teacher. I am concerned that many web sites such as yours treat the relationship of teacher and parent as an adversarial one.  The focus in my classroom is not just to educate students, but to keep the lines of communication open with parents and advocates.  I work hard for my students and  I am very outspoken as their advocate.
Advocates for Children
The outcomes for children with disabilities who receive special education services are dismal. We do not "instruct parents on how to be against teachers and school administrators." Because we are advocates for children, we provide parents and teachers with strategies to get better services for children.
We agree that many teachers are staunch advocates for their students. We have never encouraged adversarial relationships between parents and teachers. In fact, we receive many emails from teachers who are trying to advocate for their students and are in danger of  losing their jobs — or have been fired.
Most issues parents and teachers have that lead to these problems can be traced to administrators.
These articles may give you a different perspective about us:
How to Solve Problems and Protect Parent-School Relationships at https://www.wrightslaw.com/info/advo.probs.protect.htm
Why Do You Instruct Parents to be Against Special Ed Teachers? at https://www.wrightslaw.com/info/teach.support.htm