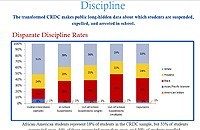 US DOE Office for Civil Rights has released the new civil rights-education data collected nationwide.
A few of the shocking findings:
Teachers in elementary schools serving the most Hispanic and African-American students are paid, on average, $2250 less per year than their colleagues in the same district working at schools serving the fewest Hispanic and African-American students.
Less than a third of high schools serving the most Hispanic and African-American students offer calculus and only 40% offer physics.
African-American students are over 3 1/2 times more likely to be suspended or expelled than their white peers.
African-American students represent 18% of students in the CRDC sample, but 35% of students suspended once, 46% of those suspended more than once, and 39% of students expelled.
Over 70% of students involved in school-related arrests or referred to law enforcement are Hispanic or African-American.
Students with disabilities (under the IDEA and Section 504 statutes) represent 12% of students in the sample, but nearly 70% of the students who are physically restrained by adults in their schools.
African-American students represent 16% of 6th-8th graders, but 42% of students in those grades held back a year.
Thanks to Angela Ciolfi, JustChildren, for the brief summary of the findings above.
For the data, go to http://ocrdata.ed.gov   You can look up the school districts in your area (though the smallest school districts are not included).
OCR snapshot summary of the collected data is here.  http://www2.ed.gov/about/offices/list/ocr/docs/crdc-2012-data-summary.pdf
What is the purpose of the Civil Rights Data Collection?
Education Week, reported that –
"New nationwide data collected by the U.S. Department of Education's civil rights office reveal stark racial and ethnic disparities in student retentions, with black and Hispanic students far more likely than white students to repeat a grade, especially in elementary and middle school."
Read the analysis from Education Week at Civil Rights Data Show Retention Disparities.
Nirvi Shah, On Special Education notes another conclusion: "Students with disabilities are more than twice as likely to receive one or more out-of-school suspensions."
Shah also blogged –
"…federal data about how often public school students are restrained or secluded at school show that, in the majority of cases, these approaches are used to contain kids with disabilities, who make up just a sixth of all students."
The 2009-10 CRDC was the first time the data included information about physical or mechanical restraints and seclusion.
Feds Share Largest Collection of Student Restraint, Seclusion Data
The next CRDC will be for the 2011-12 school year and will be a universe of all public school districts, juvenile justice facilities, charter schools, alternative schools, and schools serving students with disabilities.
http://www2.ed.gov/about/offices/list/ocr/docs/crdc-2011-12-factsheet.html