When your child with a disability receives special education services, you need to know:
how to develop your child's IEP in plain language
your rights and responsibilities under IDEA
the law, regulation, publication from the U.S. Dept of Ed that supports your position or request – so you can bring it to the IEP meeting
If you need a description of legal issues and/or problems you may encounter during the IEP process, you'll find it in Wrightslaw: All About IEPs.
Testimonial…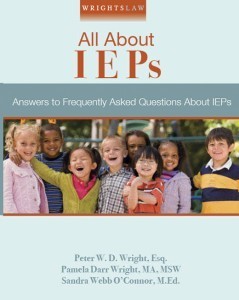 Wrightslaw: All About IEPs has given me my voice. I didn't have one before. Parents have to be armed with the accurate information and encouragement. That is what you give to us. It is empowerment in it's purest form. I am excited about this book. It is clear and easy to understand. The endnotes are a great idea. They give readers a place to go for more information.
Get answers to your questions about –
IEP Teams and IEP Meetings
Parent Participation & Consent
Present Levels, Measurable IEP Goals, Special Education Services
Related Services, Supplementary Aids & Services
Progress, Accommodations, Modifications, and Alternate Assessments
Special Factors in IEPs and Assistive Technology (A.T.)
Placement, Transition, and Extended School Year Services (ESY)
Reviewing and Revising the IEP
Transferring Schools and Education Records
Resolving Parent-School Disputes
Legal Resources for Wrightslaw: All About IEPs.
Complete Table of Contents (in pdf)
Kindle – Text to speech enabled, Download FREE Sample Chapter
iPad – Text to speech enabled, Download FREE Sample Chapter