Sometimes the best way to approach an IEP team is through the heart.
One of our readers, Nan, offered some interesting ideas about how to approach the IEP team to help them better understand your child.
Appeal to IEP team members' better instincts by presenting persuasive evidence. Can you invite the IEP team to your home to see your child read? Videotape him? Get credentialed professionals to evaluate and report? Think outside the box.
Nana Donna Creates Emma's IEP Map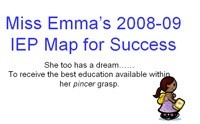 In 2008,  Nana Donna was thinking "outside the box" when she created Miss Emma's IEP Map to Success to personally introduce her granddaughter, Emma, to the IEP Team. She asked that Emma's Map be included as part of her educational record.
Another Unique Approach…
Some parents have used video to introduce their children – and the child's "unique needs" to the IEP team.  You  may have seen this video on our FB page.
Tiffany Moody made a video to introduce her son to the IEP Team.  It was a great success. Tiffany shared how she created it and the impact the video had on her son's IEP meeting.
See her tips for making a video in Introducing…  He's a Child, Not a Label at https://www.wrightslaw.com/info/iep.video.moody.htm