Introducing ... He's a Child, Not a Label
Making a Video for IEP Meetings
By Tiffany Moody
I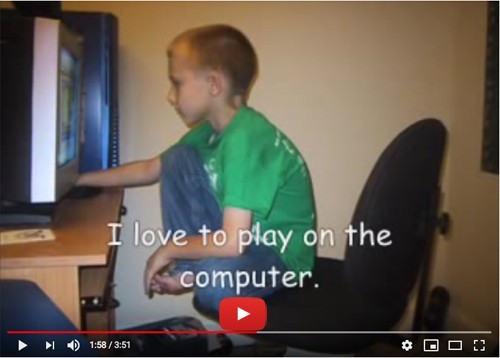 recently made a video to introduce my son to the IEP Team. It was a great success. I'm writing this article to tell you about how we created it and the impact the video had on my son's IEP meeting.
My Purpose
The intent of the video was to portray my son in a positive way to the IEP Team.
He changed schools this year as he began middle school. He will have many new teachers and administrators who have not met him. They know nothing about him.
I wanted the IEP team to see him as a child, not a label or a diagnosis with a set of issues and problems.
My Plan
1. I made a list of what I wanted the video to convey.
I wanted the IEP Team to know that he has hopes and dreams for his life. He likes to play on the computer, enjoys reading, and he loves science.
I wanted them to relate to him and say to themselves "What if this was my child?"
2. I got out all of the pictures I wanted to use.
I used pictures of him when he was a baby, toddler, playing on the beach, dressed up for Halloween, and doing all the things that other kids do. These pictures let the Team see my son for who he really is. Can't we all look at a baby picture and remember our own children at that age?
3. I wrote what text I wanted to include.
I wrote about what kind of learner my son is, what he likes to do, and his hobbies. You could also include specific goals or accomplishments, and ways to best help your child. Make it personal. I also included a couple of quotes from him. These were things I specifically remember him saying at some point in time that were particularly meaningful.
Tip: Don't forget to include a thank you to the Team for taking the time to listen and watch the video, and for helping your child.
4. I picked out a song to go with the video.
Be careful what you choose. I chose one that had a message that was the same message I wanted the video to convey.
Tip: You want this to be a positive message, not something to make them feel sorry for your child.
My Tools
There are many programs available that you can use to make a video. I used Windows Movie Maker software. I had no previous experience with it prior to putting the video together, so anyone can do it. Just play around with the software a bit to get comfortable with it. It only took me about 2 hours to put it all together once I was comfortable with the program.
You import your pictures and music directly into the program, then add your text wherever you want. I found it helpful to put the pictures in the order I wanted in the video first, then add the music. The text is added last. Your video should be about 3 to 4 minutes long, any longer and you may lose the Team's attention.
If your pictures are not already on your computer, you will need to scan them. If you do not have a scanner, you can take them to a place that develops pictures to have them scanned and put on a disc. You can do this yourself at a Walmart photo center.
My Helper
My son helped me put his video together. He is old enough to understand why it was important. This was a good way to include him in the IEP process.
It was also a good way to begin teaching him self-advocacy skills.
Our Success
Our video had a tremendous impact on the IEP meeting.
It allowed the new school staff and the IEP Team to put a face and an identity to my son's name. It made him real to them.
The principal of his elementary school came up to me after the meeting and said she almost cried.
Using the video was a great way to start the IEP Meeting.
Before the Team discussed anything else, my son became a real person to them, with all attention focused on him.
View the video l http://www.youtube.com/watch?v=8G-R5arIR7w
Created 02/13/09
Updated 11/20/18