– A testimonial from one of our readers.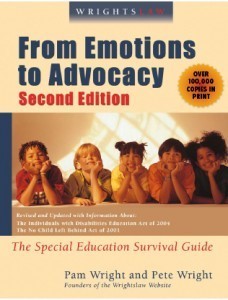 A superb reference, Wrightslaw: From Emotions To Advocacy is highly recommended reading for parents of children in need of special education services … it's filled with tips, techniques and a wealth of resources, from web sites to worksheets, forms, and sample letters …
This advocacy program teaches information and skills, step by step. As you complete each step, you will acquire the information need and polish your skills.
When you understand the program, you will know where to focus your energy.  You will not allow urgent issues to take precedence over important issues.
Section One: Getting Started
Section Two: Advocacy 101
Section Three: The Parent as Expert
Section Four: Special Education Law
Section Five: Tactics and Strategies
The Wrightslaw: From Emotions to Advocacy, 2nd Edition e-book is in PDF.  The  e-book includes bookmarks and page thumbnails so you can move easily between chapters and pages. You can quickly search the entire book for information on specific topics or terms.
Also available in Kindle and epub digital versions – text to speech enabled.
| | |
| --- | --- |
| Print & PDF combo $29.95 | |
| Print book $19.95 | |
| Kindle $12.95 | |
| e Pub $12.95 | |