All important decisions about your child's education – eligibility, special education, and related services in your child's IEP, educational progress, compensatory education (or "recovery services") – are based on test scores. Not grades, not subjective observations – test scores.
As your child returns to school, struggles to get into a routine, you need to know what happened to your child's learning and progress/lack of progress during the year, plus when the school was closed and did not provide live, face-to-face education. This valuable information is in your child's test scores. Did your child progress? Did your child lose skills or regress during the COVID school closures? To successfully negotiate for special ed services to make up for the lost skills and regression, you need to understand test scores.
To write accurate Present Levels of Academic Achievement and Functional Performance, you need baseline data from objective tests.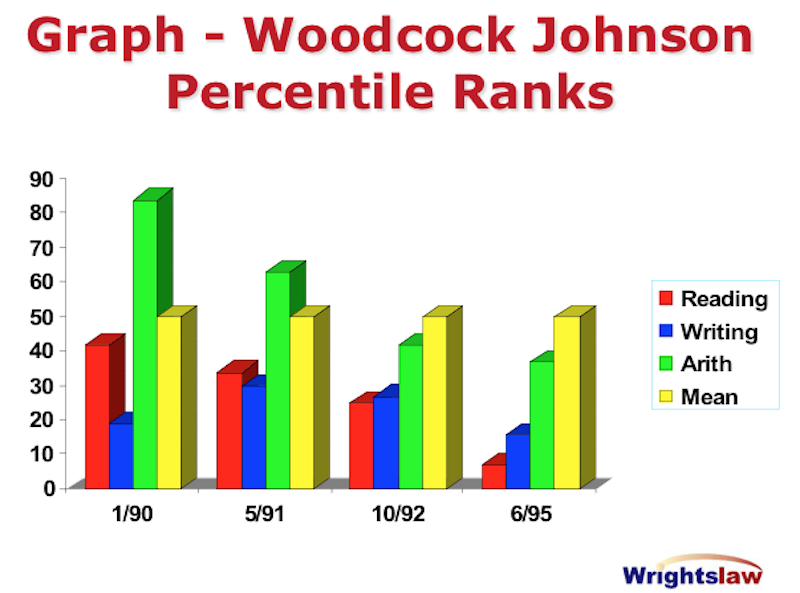 At a training many years ago, I heard that if a parent requested evaluation data be graphed, the school needed to provide the graphed data.   A graph of data is much easier to interpret than a written narrative.  Are schools required to graph data for parents?
There is no legal requirement that schools must graph evaluation data if requested by the parents.
Parents should master this skill themselves.
Suppose your child has received special education for three years.
Has your child caught up with the peer group?
Has your child fallen further behind?
How do you know?…
What do standard scores, percentile ranks, subtest scores, and age and grade equivalents mean?
In Wrightslaw training programs, I show parents how to use test scores to create Progress /Regression charts and graphs. In the old pre-computer days, we used graph paper and colored pencils to make Progress Graphs. Now we use MS Word, Excel, or PowerPoint to make these Progress / Regression graphs.
After attending a Wrightslaw training program in MA, LC writes –
"Using your advice, my daughter is now going to receive more services than we even requested. The school principal and I are back on laughing terms. I have also been able to help friends with problems they were having."
"And I gave the principal a lesson on the bell curve. She feels that the way I have been taught is much easier to understand. I will always be forever grateful for the great training you both provided."

Because this is such an important skill, the Wrightslaw Team developed Understanding Your Child's Test Scores, a training program about test scores.
https://www.wrightslaw.com/webex/test.scores.index.htm
In this 1.5 hour program, you learn about the bell curve, mean, and standard deviations. You learn how to draw the bell curve and how to use your child's test scores to create powerful progress graphs.
I will also teach you about standard scores, percentile ranks, subtest scores, composite or cluster scores, and subtest scatter.
You will find an article on Wrightslaw entitled Tests and Measurements for the Parent, Educator, Advocate & Attorney.  This has been the #1 download since 1998: definitely a "must-read."
https://www.wrightslaw.com/advoc/articles/tests_measurements.html
Time to Review
From a Wrightslaw Short Course – Present Levels in the IEP. What's So Important?