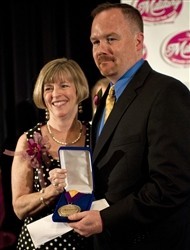 Contratulations Jeremy!
On Military Spouse Appreciation Day, May 10, 2012, Jeremy Hilton received the Military Spouse of the Year Award.
Jeremy has championed the progression of disability policy and the exceptional family member program for military families.
Upon receipt of the award, Hilton, who has a daughter with special needs, lauded fellow finalists from the other services, and shared what also inspired his efforts to advocate for military families impacted by illness or disability.
"Five of the six spouses of the year are significantly impacted by a disability or chronic medical condition," Hilton said, adding that about 54 million people, or one in six, in the U.S. are also impacted by a disability.
Hilton explained that any type of family is subject to facing the challenging circumstances brought on by illness, injury or genetic aberration.
"For some, this will happen in a split second, whether from an (improvised explosive device) or from the doctor telling you that something is wrong with your baby," Hilton said. "For others, it will be the shocking realization of the road you're about to travel as you deal with your (multiple sclerosis), cancer or Alzheimer's."
Suzie Schwartz, wife of Air Force Chief of Staff Gen. Norton Schwartz and Paula Roy, wife of Chief Master Sgt. of the Air Force James Roy, attended and introduced Hilton. Deanie Dempsey, wife of  Army Gen. Martin Dempsey, chairman of the Joint Chiefs of Staff, presented Hilton the award.
Complete article posted by Amaani Lyle here: American Forces Press Service, WASHINGTON, May 10, 2012
Pete Wright and Jeremy Hilton presented "The Military Child: Special Education Problems, Solutions, and Resources at the Council of Parent Attorneys and Advocates (COPAA) Annual Conference in San Antonio, March 2011.
More about Jeremy Hilton
The Military Child and Special Education at https://www.wrightslaw.com/info/mil.child.sped.exc.parent.pdf
The Exceptional Advocate at  http://apps.mhf.dod.mil/efmp/book/2012/May/
It's a He! at http://www.prweb.com/releases/2012militaryspouse/05oftheyear/prweb9487753.htm
http://video.foxnews.com/v/1633102214001/2012-military-spouse-of-the-year
http://www.youtube.com/watch?v=6lPRMVsN9fs&feature
Learn more about Military and Department of Defense (DoD) Special Education