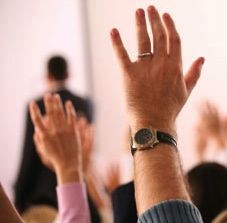 My son's speech services have been discontinued. The principal of my school says I was "out voted" because there are more school staff than me as one parent. I'm sure this is not right!
An IEP team should not "vote" on decisions about your child's special education program or placement.
This is not consistent with the law about parental participation. Parents should be equal participants in making decisions about their child's special education program.
IDEA 1997, Appendix A states –
"The IEP team should work toward consensus, but the public agency has ultimate responsibility to ensure that the IEP includes the services that the child needs in order to receive FAPE. It is not appropriate to make IEP decisions based upon a majority 'vote'."
See Question #9. https://www.wrightslaw.com/info/iep.law.appendixa.htm
In the FAQs book Wrightslaw: All About IEPs,  you will find this question: 
Can the IEP team 'vote' for a child's placement, over the objections of her parents and another team member?  I've copied part of the answer below.
"IEP meetings allow parents and school staff to make joint informed decisions about your child's IEP. The IEP team should work toward consensus. If the team cannot each consensus, the school must provide the parents with prior written notice about what the school proposes or refuses to do."
Find the complete answer, the appropriate legal citations, more about prior written notice and resolving parent-school disputes in Chapter 14 of All About IEPs.