It's IEP Season! Are you toting the right stuff to IEP meetings?
When you take The Wright Tote to your next IEP meeting, you'll know the power of getting organized! Check out our three new tote options in the Advocate's Store.
See all advocacy supplies and accessories in the Advocate's Store
Special Introductory Offer is available from April 1 – April 10. Order today!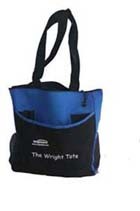 The Wright Tote is the perfect size for on-the-go storage and organization of your child's records, special education file, and IEP notes – all in one place!
Wright Tote – Special Introductory Price: $12.95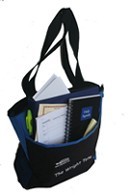 Are you ready to advocate? Here is a list of supplies that will help you get started. The Wright Tote IEP Kit contains:
The Wright Tote
3-ring notebook for your child's educational file
Pen/Highlighter Combo
Package of sticky notes
#10 Envelopes
Calendar
Journal
Contact log
Recipe Cards: 1 More Hour of Services Chocolate Chip Cookies and Team Building Truffles
IEP Kit – Special Introductory Price: $29.95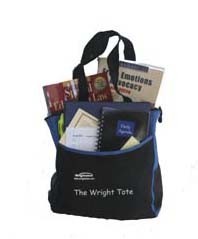 This power packed Wright Tote IEP Kit includes everything in the IEP Tote Kit plus the "best sellers":
MM writes, "I'm writing to find out how I can order this fantastic tote. It's literally my dream come true!"
IEP Kit plus Books – Special Introductory Price: $69.95

Check out our complete new line of advocacy supplies and accessories in the Advocate's Store