We receive wonderful stories about parents who have become seasoned and powerful advocates for their children. Now these parents are paying it forward by providing advice and information to others, developing advocacy study groups, or training parents, service providers, and educators in special education advocacy.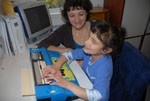 Special education advocate Graciela Tiscareño-Sato and her husband have compiled their knowledge of law and seven years of negotiating experience into a multimedia DVD for all parents, service providers and educators in the educational system. They attended a Wrightslaw Special Education Law Boot Camp…
before their daughter started public preschool. They learned about:
parental and child rights under the Individuals with Disabilities Education Act of 2004 (IDEA 2004)
how school districts make decisions about special education programs
the importance of positive relationships built with IEP teams
Building Bridges of Knowledge
The Satos are eight years into raising a daughter who is blind and thriving in the local public school, within the California special education system. They are determined to build bridges of knowledge between parents and educators, so that children with disabilities receive continuous educational benefit.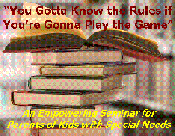 Read about their training program in Just in Time for School Year: Special Education Advocate Launches Must-Have School Supply for Parents, Teachers of Children with Disabilities. http://www.prweb.com/releases/2010/07/prweb4286494.htm
Find more information about the Satos Multimedia Seminar on DVD –"You Gotta Know the Rules if You're Going to Play the Game"
Parents Leading the Way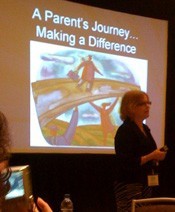 With so many parents leading the way, it seems a new Wrightslaw series is taking shape about the Power of Parent Advocacy.
Susan Bruce leads the way at the Region 2 PTI Conference in Memphis as she trains other parents how to "Make a Difference."
Parent advocates learn about parental and child rights in IDEA by attending a Wrightslaw training program or using the Multimedia training series.
Read more about parent advocates who are training and enabling other parents.
Sharon Mullen and Sharon Dobkin – The Power of Parent Advocacy  https://www.wrightslaw.com/blog/?p=1360
Susan Bruce – Parents Leading the Way
https://www.wrightslaw.com/blog/?p=2368
Nana Donna and Tiffany Moody – Miss Emma's IEP Map for Success
https://www.wrightslaw.com/blog/?p=3106