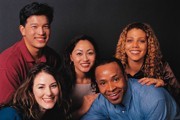 Advocacy: to speak for or on behalf of another.
It is a skill much coveted by parents of students with special education needs.  It is also a skill that spreads throughout the lives of all family members of a student with special education needs.
Peers of students with disabilities learn advocacy skills from their life experiences with that student.  Acceptance of differences in a peer group is just one of many such skills acquired by students in an inclusive classroom.  In learning that it is okay to identify and ask for your needs in the learning environment, all kids develop life skills on communicating with systems and authority. In learning that every student brings talents to the table, kids learn that their skills and the skills of others can combine to improve the outcome for the entire group.
Siblings of students with disabilities learn that they can be more than just siblings.  They see parents advocate and the positive results of that advocacy.  They learn that all individuals are worthy of respect and accommodation of special needs.  They learn that they are part of bigger world than just their family or class.  Rather they are part of a world filled with people who have gifts that are not visible on the surface.
Students with disabilities learn that they are deserving of the same options open to all other students.  They learn that they do not have to become "normal" to be part of the greater school and community.  They learn that they are worthy of the efforts to advocate for them expended by their parents and teachers.  And they learn that they too have the ability to advocate, for themselves and for others.
A Larger Application
As parents, we frequently focus on using our advocacy skills for our children, disabled or not.  However, those advocacy skills have a much larger application.
An aging parent who needs assistance may benefit from advocacy to obtain that assistance at home rather than in a facility.  A spouse or partner who becomes ill will almost certainly need advocacy on the part of the caregiving partner.
It is just as vital to control emotions and utilize effective team building skills with doctors and other medical personnel as it is with teachers and school administrators.
Advocacy is a skill that builds throughout your life and produces positive effects in every area.  Never underestimate the power of effective advocacy.  It can and will change everything.