Wrightslaw 2017 Case of the Year – J.S. v. Houston County Bd. Ed.

We urge all special education attorneys to read this case. It includes issues such as a allegation of failure to exhaust, physical abuse of a child, and violations of Section 504 and the Americans with Disabilities Act.
Case Claims Against the School Board
This case against the school board claims that, by acting unlawfully or by failing to act, "the HCBOE deprived J.S., III of the required supervision and services required by law, excluded him from and denied him the benefits of public, federally supported programs and facilities operated by HCBOE, and, ultimately, led to and caused his discrimination and harassment."
J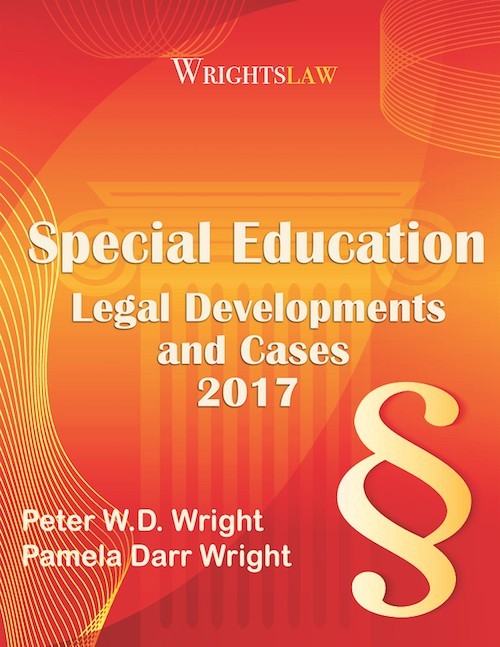 .S. v. Houston County Bd. Ed.
11th Cir.
10/2/2017 – Alabama
You'll find this "Case of the Year" in Wrightslaw: Special Education Legal Developments and Cases 2017.  See the Table of Decisions, page 31 and the Summaries of Decisions, pages 73-75.
Parents Allege Abuse of their Child
A child with "severe physical disabilities and cognitive impairments" was abused by his aide/paraprofessional who regularly removed J.S. from the classroom and took him to the school's weight room. The child "with some frequency, [was] excluded and isolated from his classroom and peers on the basis of his disability."
The Alabama parents filed Section 504 and ADA claims against the Houston County Board of Education alleging abuse of their child.
The U.S. District Court dismissed the case "mischaracterizing his Title II and Section 504 claim regarding his removal from his regular classroom as merely a claim that he was denied a FAPE, a right guaranteed under the IDEA."
Reversed and Remanded – the School Board may face Jury Trial
The Court of Appeals reversed portions of the decision and remanded it back. The School Board may face a civil Jury Trial for violations of Section 504 and ADA.
Outcome: Parents prevailed.
2017 Cases of the Year in Wrightslaw: Legal Developments and Cases 2017
These cases are must reads for special education attorneys, advocates, and others who are interested in special education law. You will learn what makes these four cases unique and earned them the distinction as 2017 Cases of the Year.
9th Circuit, California: M.C. v. Antelope Valley, page 47.
11th Circuit, Alabama: J.S. v. Houston Cnty Bd. Ed., page 73.
SCOTUS: Endrew F. v. Douglas County Sch. Dist., page 46, 99.
SCOTUS: Fry v. Napoleon Comm. Sch., page 40, 83.
Get the complete Wrightslaw Year in Review Series