In TImothy O. v. Paso Robles (May 2016), Ninth Circuit Court of Appeals Judge Reinhardt reverses the District Court decision in a decisive win for the parents.
In his opinion, Judge Reinhardt writes a clear and logical description of the legal requirements for the entire special ed identification, evaluation, and IEP process.
Young Luke is a child with autism. In a meeting, a school person reported that Luke did not have autism, but had an "expressive language delay," so the school did not complete a comprehensive evaluation as the law requires.  This denied Luke a free appropriate public education (FAPE).
Luke's parents filed for due process alleging that the school district violated the requirements of IDEA and the state regulations (CA) by:
1. failing to assess Luke in all areas of suspected disability, specifically autism
2. failing to appropriately address his behavioral issues, refusing to speak, tantrums, non-compliance
When Luke's parents lost at due process and the District Court affirmed the ALJ's decision, they appealed to the 9th Circuit.
Failure to Evaluate
The school was aware of a suspected disability from a number of sources (concerns of parents, informed professionals, Luke's behavior) and because of this suspicion, was required to evaluate.
"It chose, however, not to formally assess him…"
The court's opinion noted that a school staff member's informal observation of Luke did not constitute a formal assessment required by IDEA.
The district's failure to assess Luke for all areas of suspected disability deprived his IEP Team of critical evaluative information about his developmental abilities as an autistic child.
This failure made it impossible for the IEP Team to consider Luke's unique needs and recommend appropriate services.
The Court held that the school violated the procedural requirement of IDEA , was unable to design an IEP to meet Luke's needs, and therefore denied Luke FAPE.
A Well-Written Decision
This decision is so well-written on many levels.  The decision begins with a good description of autism, including prevalence and primary symptoms, using citations in medical journals.
The decision discusses the need for appropriate early intervention (EI) services. It explains that children who receive proper EI often learn to communicate effectively. Some lose their diagnosis.
Judge Reinhardt describes the IDEA requirements for identification and evaluation in detail. He is clear that by failing (or refusing) to conduct a comprehensive evaluation, the school could not provide Luke with FAPE.
In Timothy O v. Paso Robles, read the Judge's description of the:
statutory and regulatory background of IDEA
comprehensive requirements for identification and evaluation of children with disabilities
creation of an appropriate IEP
significant, meaningful, and collaborative role of the parents in the process
the requirements for parent notification, parent rights regarding an IEE, and due process rights
https://www.wrightslaw.com/law/caselaw/2016/9th.timothyo.paso.robles.fail.eval.pdf
Stay Current on Case Law!

Timothy O v. Paso Robles is a 2016 Case of the Year. Court decisions lead to changes in how the law is implemented. It is important to stay current on case law. Cases of the Year are "must reads" for special education attorneys, advocates, and others who are interested in special education law.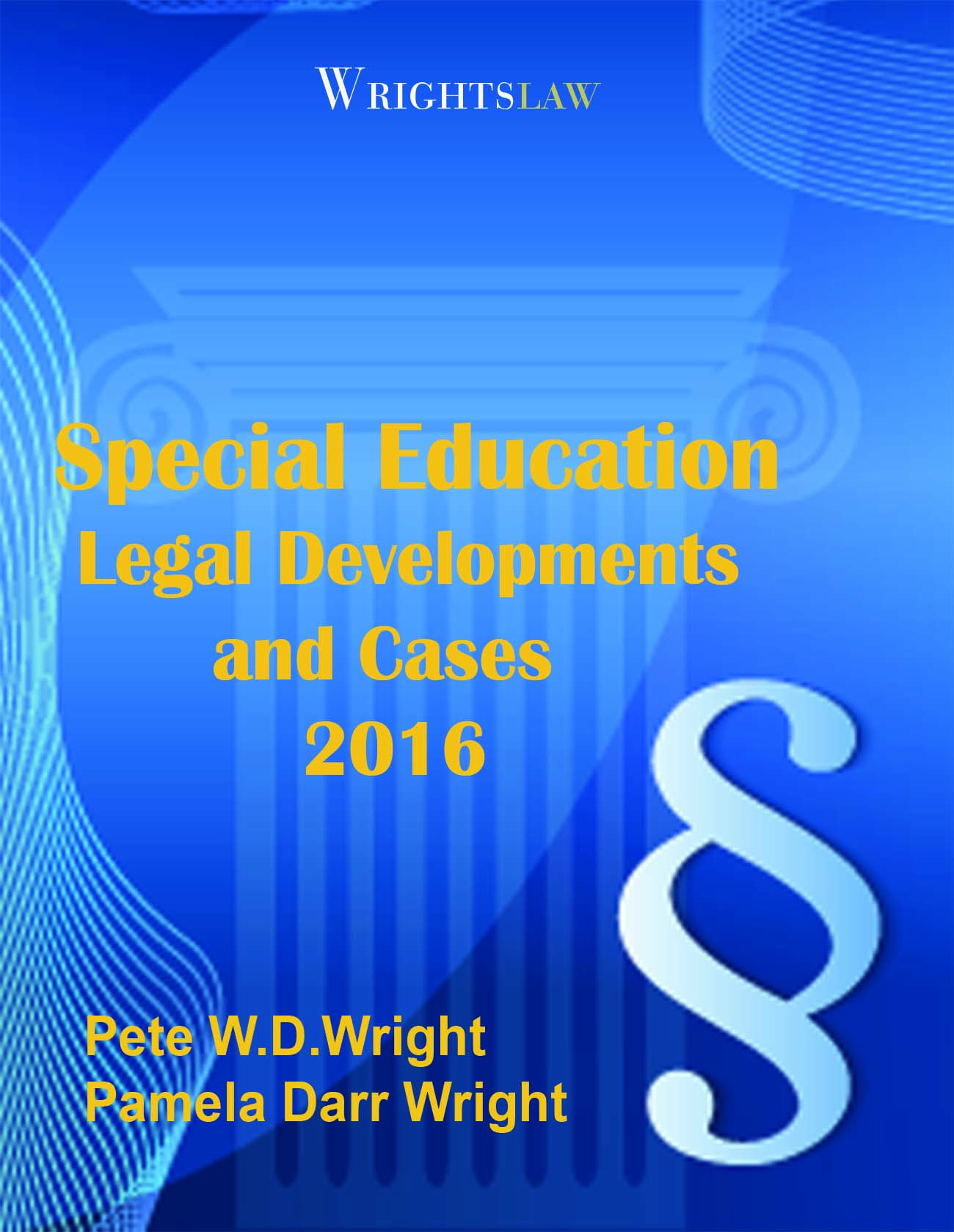 Wrightslaw: Special Education Legal Developments and Cases 2016  is our newest book in the Year in Review series.
Page 79 – Timothy O. v. Paso Robles.
Legal Developments and Cases 2016 includes all decisions in IDEA cases by Courts of Appeals in 2016 including court, legal issues, synopsis of decision, outcome, prevailing party, and link to all decisions. It includes two new special education decision form the U.S. Supreme Court.
Begin your Year in Review collection. Click here for information about the 2015 publication – Wrightslaw: Special Education Legal Developments and Cases 2015.
Stay tuned for the release of the Year in Review 2017.