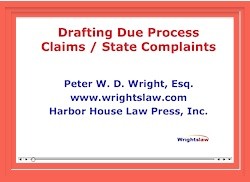 Your state Department of Education must develop a system to provide information about state complaint procedures and how to resolve parent-school complaints.
Take care when you use your state complaint system (or OCR).
Use complaints only if you can prove that the school is breaking the law.
Never base a complaint on what someone tells you.
Writing State Complaint Letters
Find our what the attorney and the lay advocate need to know. When do you start the preparation for the letter? What are the first steps before putting pen to paper? Who is your target audience – you are writing the letter for who? Are you sure?
Read the new OSEP guidance for State Complaint procedures and get links to sample letters. [Read more →]

Tags: Due Process Letters · OSEP guidance · State Complaints · Wrightslaw training · Wrightslaw Training CD-ROMs · writing lettersNo Comments.