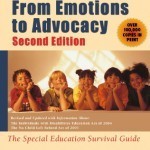 Wrightslaw From Emotions to Advocacy Conference, a Wrightslaw training program with Pete Wright, Esq., is being sponsored by Down Syndrome Partnership of North Texas.
The program will be held at the Lake Arlington Baptist Church in Arlington, TX on Saturday, April 9, 2016.
In From Emotions to Advocacy training programs (one day, 6 hours) attorney Pete Wright teaches you how to take an active role in managing your child's special education, the gentle art of disagreeing, and how to maintain healthy working relationships with the school.
Print and share the conference flyer!
For all conference details, please click here.
See you in Texas!