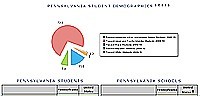 What does the "achievement gap" look like from state to state?
Want the data on "highly qualified teachers" in your state?
How are students with disabilities doing on state tests in Idaho versus Ohio?
If you love data you'll want to check out these cool data tools from Ed Data Express – an interactive web site that allows users to examine state-level data of many educational factors.
Hat tip to  Dr. Harry Gewanter,  a pediatrician and pediatric rheumatologist, Associate Medical Director of Medial Home Plus, Inc. and faculty member for the W&M Law School Institute of Special Education Advocacy.
Love (Need) Data? ED Data Express Is For You!  NICHCY has a good tutorial showing some of the ways you can use the site.
Find charts, graphs and tables, data mapping, trend lines, and learn how to refine the data through conditional analysis.
Thanks again, Harry, for sending us the link from the Special Education Law Blog – Cool Charts & Graphs – New Data Tools.