We receive many questions about violations of IDEA. The children's names and dates of birth change but their stories are similar.

The child shows clear signs of a disability. The school may have an evaluation showing the child has a disability – a learning disability, ADHD, anxiety disorder, or another disability.

The school district fails to tell parents about their child's rights under IDEA, or their parental rights. Instead, the district tells the parents "Your child is lazy – she is choosing not to learn."
This was an issue in Florence County School District IV v. Shannon Carter.

The school system evaluated Shannon when she was in the sixth grade. This evaluation clearly showed that Shannon had learning disabilities in reading and math. The school told the parents that Shannon was lazy, unmotivated. Her parents were advised to pressure her to work harder.
The school did not advise the parents that they had any rights.
Relying on the school's advice, Shannon's parents pushed her to work harder. Regardless of how hard Shannon worked, she could not teach herself to read, write or do math. The situation came to a head when her mother realized that Shannon was seriously considering suicide.
Shannon's dad testified: "The school psychologist said Shannon's learning problems were her fault, that she was lazy and unmotivated."
We pressured her to work harder.
We didn't allow her to watch television or listen to the radio.
We didn't allow her to go out with friends.
Homework took hours to complete, even when we helped her.
"She became terribly depressed. We didn't know what to do. We didn't want to raise a lazy child." (from The Untold Story of Shannon Carter v. Florence County)
To learn more about blaming children for learning and other school problems, read Pam's article, The Blame Game! Are School Problems the Kids' Fault? at https://www.wrightslaw.com/advoc/articles/ALESSI1.html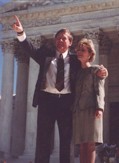 Pete recalled, "The fact that the school blamed Shannon after they failed to teach her to read hit the judges hard, especially at the Fourth Circuit level. I'll never forget those three Judges sitting up there as the implications unfolded before them.
"The judges looked beyond me to Emory, Elaine, and Shannon Carter, faces wet with tears. When I saw the judges watching Shannon and her parents, not looking at me, not listening to me, I knew we had prevailed."
"This was one theme in oral argument before the Fourth Circuit, and the beginning of my oral argument before the U. S. Supreme Court in Shannon's case."
Read oral argument before the Supreme Court at https://www.wrightslaw.com/law/caselaw/Carter_SupCt_Oral_Argument.html
The Supreme Court ruled 9-0 in Shannon's favor. https://www.wrightslaw.com/law/caselaw/ussupct.carter.htm
This theme resonates with many Hearing Officers and Judges. They can empathize with parents who are told that their child is "lazy" or "stubborn," especially when they learn the school had reason to know the child's problems were caused by a disability.
When parents learn that their child is not stubborn, lazy, or unmotivated, but has a disability, many are consumed by guilt. If you've experienced these feelings, it's time for a reality check.
What happened to Shannon? How did things turn out for her?
The New York Times decided to find out. Read "How the Clip 'N Snip's Owner Changed Special Education"
https://www.nytimes.com/2002/01/05/opinion/editorial-observer-how-the-clip-n-snip-s-owner-changed-special-education.html
You may be able to use this article and the lessons in Shannon's case to create the theme of your case.
Pete
P.S. You can read the Untold Story of Shannon Carter at
https://www.wrightslaw.com/advoc/articles/Carter_The_Untold_Story.html