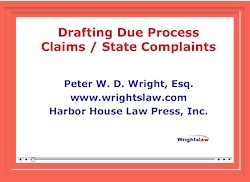 IDEA 2004 requires state departments of education to develop  systems to provide information about their state complaint procedures to resolve parent-school complaints.
Be careful when you use your state complaint system (or OCR).
Use state complaints only if you can prove that the school is breaking the law.
Never base a complaint on what someone tells you.
How to Write Effective Complaints
When should you begin to prepare your complaint? What are the first steps before you put pen to paper? Who is your target audience? Who are you writing the complaint to?
Are you sure?
Pete filmed a video about how to write state complaints and due process request letters. The principles in the video apply to all letters. This video is available for immediate download. (MP4; 55 minutes)
The video will teach you how to use visual imagery to tell a story that is persuasive.  Click to watch the trailer.
Before You File
Before you file a complaint, be sure you will not want to file for a hearing on the same issue.
In 18 Tips for Filing Complaints, Pat Howey shares strategies for filing a complaint with the state department of education.
IDEA Regulations: State Complaint Procedures
IDEA Regulations for state complaint procedures are at 34 CFR §300.151 through 300.153. You will find them on page 216 of Wrightslaw: Special Education Law, 2nd Edition.
How Do You Control the Outcome of Your Complaint?
Facts and law do not control the outcome of a complaint. When you file a complaint, your goal is to make the decision-maker want to rule in your favor. So…what controls the outcome?