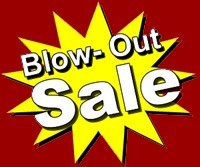 THIS WEEKEND ONLY!
Wrightslaw Weekend Blowout Sale! Save 25% on All Wrightslaw Products
Starting Now! Thursday, March 25.  Sale ends midnight Sunday, March 28, 2010.

Been waiting to get The Wright Tote IEP Kit?   Here's your chance! This special offer includes our Multi-media Training Programs and all Combos
Get 25% off ALL WRIGHTSLAW PRODUCTS in the Wrightslaw store during our Weekend Blowout Sale.
When you share this offer to your friends and colleagues, they will receive the 25% discount too.
Find out What's in Store at Wrightslaw at https://www.wrightslaw.com/store