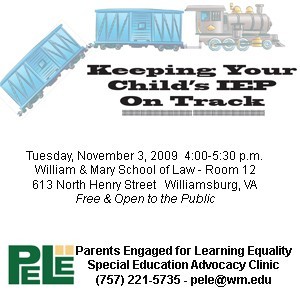 Don't miss the fall Parent Education Session at the Special Education Advocacy Clinic at William & Mary Law School – "Keeping Your Child's IEP on Track."
Tuesday, November 3, 4:00-5:30 p.m.

It's free and open to the public.
Find out – (1) How to Design a Good IEP, (2) How to….
How to Design a Good IEP
How to Track Your Child's Progress
What to Do When Your Child's IEP Starts to Get Off Track
How to Make Mid-Year Changes to Your Child's IEP
How to Keep Your Relationship with the School on Track
There will be a question and answer session (but not child or disability specific questions). You can submit questions in advance at pele@wm.edu.